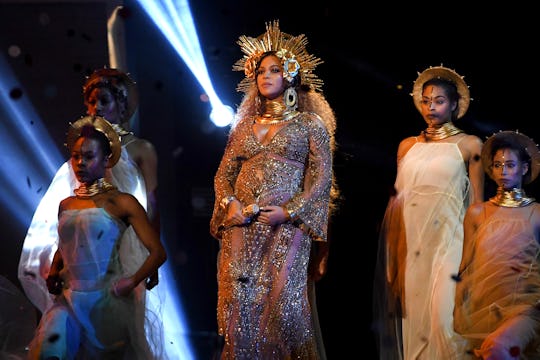 Kevork Djansezian/Getty Images Entertainment/Getty Images
Will There Be More Photos Of Rumi And Sir?
When Beyoncé first announced her twin pregnancy back in February with a surprise Instagram post featuring a photo of the singer showing off her growing belly, it was hard to envision that anything could possibly top the frenzy it created. But in the early hours of Friday morning, Beyoncé managed to outdo herself by quietly releasing an incredible first photo of her twins on social media. Naturally, fans have been freaking out ever since, but the pic may not be the only one Beyoncé has up her sleeve. Will there be more photos of Rumi and Sir? Given the similarities her recent post shares with her pregnancy announcement earlier this year, it doesn't seem at all unreasonable to think there will be.
It's been a month since the birth of Beyoncé and JAY-Z's twins, and although details were widely reported by news outlets, the couple had yet to actually confirm anything related to the infants' arrival prior to the photo's release. Now, it's probably safe to assume that literally any update from Beyoncé would have caused fans to completely lose it. But the fact that she also happened to produce a photo that was the perfect follow-up to her original pregnancy announcement — the flawless "after" photo to February's "before" — pretty much elevated Beyoncé's badass-ery to a whole new level.
The photo itself shows the singer similarly dressed in a veil in front of a floral backdrop, as in the original photo. But this time the veil is lifted, and instead of cradling her pregnant belly, she's proudly holding her babies, the three of them wrapped in a flowing gown with a pink and blue floral pattern. It's the same kind of striking image that, according to Billboard, made Beyoncé's pregnancy announcement the most liked Instagram post ever. But given that the latest pic already has more than 6.5 million Instagram likes? It seems like it won't be long until she beats her own record.
As much as fans rejoiced after Bey's initial pregnancy announcement was released though, it turned out that the image was only one of a series of gorgeous maternity photos taken by photographer Awol Erizku, which the singer shared on her website one day later in a post entitled, "I have three hearts." The photos were similarly artistic and full of symbolism, and in addition to other posts, photos, and quotes shared on her site, they seemed to show just how happy and excited Beyoncé and JAY-Z were to be growing their family by two.
Although it isn't clear if the photo of Beyoncé with her twins is one of many still to come (in all fairness, it must be much harder to execute a photo shoot when you're one-month postpartum with infant twins than when you're pregnant), the similarity between the pregnancy announcement and the first photo of Beyoncé with her babies seems to suggest that the singer absolutely had a creative vision in mind for the big reveal. And it seems entirely possible that she may also want to release a similar series of photos depicting new motherhood the way she did with her pregnancy.
Then again, releasing more photos of their babies may not be something that the very private stars feel comfortable doing, and Friday's Instagram pic might have been Beyoncé and JAY-Z's way of carefully controlling the public's access to their newly-expanded family (after all, many celeb parents prefer to be the ones sharing the first photos of their kids, rather than have paparazzi fighting to get the scoop on the first shot). That seems entirely fair. But if Beyoncé does intend to share additional photos of her children, they will almost certainly be amazing.