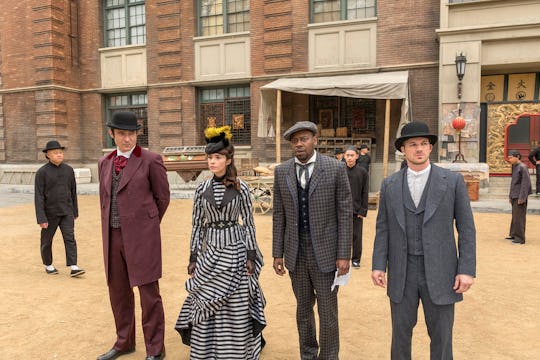 Ron Batzdorff/NBC
'Timeless' Was Cancelled Again — But There May Be Hope
For some established shows on network TV, it's easy to predict that they'll be renewed and even easier to plan your weeknight evenings around them because they're usually here to stay. For Timeless, however, there was a ton of back and forth in terms of cancellations that fans weren't even sure if there was going to be a second season. Now that the finale has come and gone, though, you're likely wondering if Timeless will be on Netflix at some point in the near future. The short answer is probably not, since season one is currently on Hulu and usually, newer shows don't tend to have joint deals with both streaming platforms.
Shortly after season one of Timeless ended and the show was cancelled, Sony Pictures Television negotiated with NBC in order to get a second season on the air. The deal worked and what followed was a second and final season of the science fiction drama. Given that Sony has made a number of deals with Hulu exclusively in the past, it stands to reason that Timeless is in the same boat. And since Netflix typically asks for full exclusivity of all TV programs that it adds to its ever-growing library, more often than not shows that are currently airing tend to head to Hulu.
Although Timeless is now officially cancelled (again), fans can expect season two to be available on Hulu eventually rather than Netflix.
The good news is that, as reported by Deadline, fans might be in for a movie in order to give the show a send-off befitting the two-season series. Sony Pictures TV and NBC haven't yet reached a full agreement on the details of a possible two-hour movie to give fans closure, especially after the cliffhanger of the Season 2 finale, but the door isn't closed by any means. Co-creator Shawn Ryan took to Twitter to share his thoughts on the second cancellation of the show and the hope for a two-hour movie that will satisfy fans who probably still aren't ready to say goodbye to the show. "If NBC is sincere in wanting a two hour movie to give much needed closure to our amazing @NBCTimeless fans, we are ready to make it," he tweeted. "We don't want the journeys of Lucy, Wyatt, Rufus and the others to end yet."
In May, Sony TV president Jeff Frost did tell The Hollywood Reporter that they could be looking at a new home for the series in the event that it wasn't picked up for a third season by NBC. "In the event that it doesn't go forward, we have a number of conversations going on with a number of interested parties," he said at the time. "We really hope that NBC sees the light. If they don't, we are very anxious to try set it up someplace else."
But as of right now, there are still those rumors of a possible movie being produced for TV to end the series rather than setting up shop on another network or even on a streaming platform exclusively. In a perfect world, Timeless fans would get to continue in the sci-fi time traveling adventures of the series, but even if there is just a movie rather than another full season, that's better than nothing.
If the plans for a two-hour movie don't move forward and the show remains halted on NBC, there is the possibility that Netflix could pick up Timeless in the eleventh hour. But at this time, fans should expect to see season two on Hulu and hope for that movie to come through.