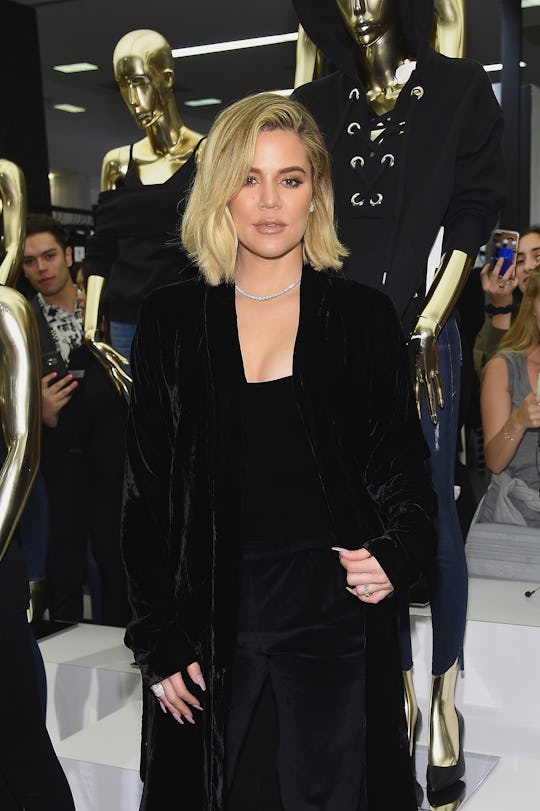 Jamie McCarthy/Getty Images Entertainment/Getty Images
Will Tristan Thompson Stay In Cleveland? Here's What We Know About His Living Situation
Since Khloé Kardashian gave birth on April 12, the world has been watching closely to see what her next move will be. Everything from the baby's name choice to her current location has been cause for fanfare, and there are still many questions that remain. One among them is: Will Tristan Thompson stay in Cleveland? Khloé is currently staying in his house with baby True, but when she eventually moves back home, will Tristan go with her?
In short, probably not. In 2015, Tristan signed another five-year contract with the Cleveland Cavaliers, ESPN reported. For logistical purposes, he'll probably be calling Ohio home for the next few years at least. (This is also why Khloé originally flew there to give birth). At this point in time, more people seem to be worried not about where Tristan will head next, but where Khloé will. Us Weekly reported that Kris Jenner is "concerned" Khloé will stay in Cleveland, despite all that's happened. From her behavior thus far, it doesn't seem like an impossibility.
As many people know, The Daily Mail released a video that purports to show Tristan Thompson cheating on Khloé days before she was expected to deliver. (Neither Kardashian's nor Thompson's reps have responded to Romper's request for comment.) Though their relationship mostly remains up in the air, Us Weekly reported that Khloé isn't leaving Cleveland anytime soon. An unnamed "insider" shared the following:
Khloé appreciated her sisters coming to see her and True in Cleveland, but she made it clear, she isn't going to be leaving anytime soon. It's important for Khloé that Tristan spend time with their daughter.
They added that Khloé doesn't feel it's the "right time" to leave, as Tristian is amid the NBA playoffs. Despite everything that's happened, this seems pretty consistent with Khloé's behavior thus far. She reportedly wanted him in the delivery room while she gave birth, and her social media has seemed to unify them as parents, because she's adamant that their daughter is, well, theirs. This is also why she gave True Tristan's last name.
Despite keeping up appearances, it's clear that not everything is going smoothly between them. As of now, neither has said whether they are together, though People previously reported they are taking it "day by day." However, TMZ reported later that their relationship is "severely fractured," and that the two hadn't been alone in his house since the baby was born. Radar Online later added that Khloé "went off" on Tristan in the delivery room, as a source shared:
When the baby was delivered and the nurse took her away from the delivery room, Khloe just snapped at him... Tristan is begging her and telling her it'll never happened again and he wants to be in Khloe's life... She doesn't want the baby to be affected, but also doesn't want her to grow up without a father.
Other reports have stated that Khloé "isn't even thinking" about her relationship right now, and that the focus is totally on True. Us Magazine reported on Wednesday that she has promised her family she'll be returning to L.A. after the playoffs, and that her primary concern is that True and Tristan are "bonding." The source continued: "The off-season will "give them time to figure all of that out, and there is no reason Tristan can't come to Los Angeles."
Which of course, brings back the issue of whether or not he really will be staying in Cleveland for good. Though it's clear that will have to be his home base for a while, whether or not he makes the effort to come to L.A. and be part of Khloé and True's lives seems like a ball that's in Khloé's court right now... and given everything that's happened so far, it's hard to say which way she'll throw it.
Check out Romper's new video series, Bearing The Motherload, where disagreeing parents from different sides of an issue sit down with a mediator and talk about how to support (and not judge) each other's parenting perspectives. New episodes air Mondays on Facebook.