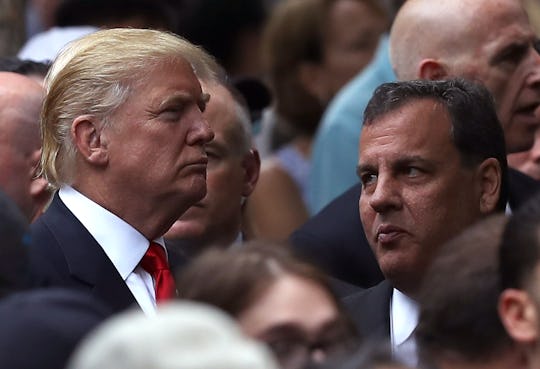 Justin Sullivan/Getty Images News/Getty Images
Will Trump Appoint Chris Christie To A Cabinet Position? It Seems Likely
With a little more than a year left of his term, New Jersey Gov. Chris Christie's approval rating is at an all-time low. As soon as he hitched his wagon to Donald Trump's campaign, the public started speculating that he was angling for a new job. He's currently manning the transition team, but will Trump appoint Christie to a cabinet position once he takes office? Many political experts believe that he will, although which position is still up for debate.
Some believe that Christie, a former prosecutor, might be interested in an attorney general appointment, but most agree that it will be nearly impossible for him to achieve. He's currently being investigated for his bridge closure scandal, so making him the head of the Department of Justice, and effectively in charge of his own investigation, would be impossible. Rolling Stone has also reported that by openly discussing his thoughts and false claims regarding former Secretary of State Hillary Clinton's email investigation, Christie violated the ethics of the American Bar Association, thereby disqualifying himself from ever holding the position of attorney general. And thanks to that bridge mess, the Senate's not too fond of Christie, so his best bet is a position where he doesn't have to be confirmed.
Some believe that Christie could become Trump's chief of staff, or the chairman of the Republican National Committee. And Craig Stevens, a former spokesman for Mitt Romney, told NJ.com, "Secretary of Labor might be attractive if Trump wanted to make a stand against unions." Politico reported that Trump is also considering appointing Christie as the Secretary of Commerce, or possibly Homeland Security. Sources told the New York Post back in June that Christie could be named either chief of staff or attorney general, but that was before a judge issued a criminal summons to Christie in October over his possible role in the "Bridgegate" scandal.
It seems that Christie made the right choice by cozying up to Trump after his own presidential bid failed. Initially, it appeared that he deeply regretted backing Trump after appearing behind him during a speech on Super Tuesday with a terrified look on his face. Then he suffered the indignity of being scolded by Trump not to eat Oreos, and faced rumors that Trump treated him like a servant after claims surfaced that Trump made him fetch his McDonald's order. But Christie earned thanks and praise in Trump's victory speech early Wednesday morning, so it looks like they're getting along well. The world anxiously awaits the news of Christie's new job.