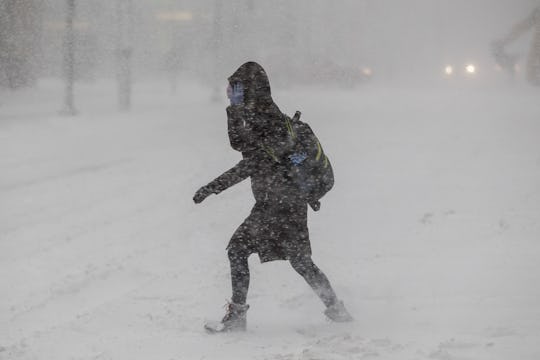 Scott Eisen/Getty Images News/Getty Images
Winter Storm Hunter Is Set To Slam Ohio With A Mess Of Snow & Ice This Weekend
As a Canadian, I know a little something about winter storms. And I can tell you this; there is really nothing worse than the dreaded one-two punch of snow mixed with ice. Snow, fine. Ice, tougher but I can deal. Both? No thank you, ma'am. And it looks as though Winter Storm Hunter is getting all riled up to deliver that exact scenario to people throughout the mid west. But how far will this difficult storm stretch? Will Winter Storm Hunter hit Ohio? And why does Winter Storm Hunter sound like the name of an exceedingly well-dressed toddler, probably in the throes of a temper tantrum in the middle of IKEA? But I digress.
Now that the East Coast, including major swathes of Massachusetts, is finally starting to dig itself out from under Winter Storm Grayson, it looks like several other states will have their turn. Winter Storm Hunter is expected to bring ice and snow from Tennessee through parts of the Dakotas, Nebraska, western Iowa, and Minnesota on Thursday, according to The Weather Channel. Blizzard conditions are expected, before the storm could move on to the Ohio Valley (sorry Ohio, I wish I had better news for you). By the time the storm hits the Ohio Valley and the Great Lakes on Friday, more snow and ice are expected to develop, as The Weather Channel noted. Cleveland could see a considerable amount of snow and ice before the snow moves on to Pennsylvania.
In other words, get ye to the grocery store now and stock up on supplies, because you might want to hunker down at home for the duration.
It seems that Ohio is going to be hit by "Phase Three" of Winter Storm Hunter, as reported by winter weather expert for The Weather Channel, Tom Niziol, who explained to The Daily Advocate:
Hunter is a multi-phase, high impact winter storm that will produce snow, ice, wind, as well as an extreme temperature drop as it moves across the Plains, Midwest, Great Lakes, and Northern Interior New England through Saturday.
Niziol went on to explain that Winter Storm Hunter will be bringing all manner of terrible weather to several states, from freezing rain to snow to high winds and sleet:
Phase three of the storm ramps up across the Midwest on Friday, and moves rapidly north and east through the Ohio Valley to Western New York on Saturday. The same scenario will play out with a changeover from rain to a wintry mix, and then extreme temperature drops with snowfall. Significant icing is possible in a swath from Western Tennessee and Kentucky through Southern Illinois, Indiana, Ohio, Northwest Pennsylvania, and Southwestern New York. Finally, the East Coast may be spared wintry precipitation but mild conditions and copious rainfall on frozen ground could produce some flooding woes in New England.
While the storm is expected to hit Ohio, the upper Great Lakes and some areas of the Midwest are looking to get the bulk of the problems. NBC News reported that the deadly storm, which could affect as many as 60 million Americans, will sweep east with strong winds and snow through cities like Detroit, Indianapolis and Nashville and Memphis, Tennessee.
It's only been 2018 for less than a few weeks, and already the intense weather is coming in fast and furious. Flash flooding in California, blizzards and ice storms and a dangerous January thaw. If anyone was hoping for a break from wild and unpredictable weather patterns after the hurricanes and wildfires from 2017, they would be setting themselves up for serious disappointment.
The best anyone can do is to be prepared, stay safe... and ride out the storm as best you can.
Check out Romper's new video series, Romper's Doula Diaries:
Watch full episodes of Romper's Doula Diaries on Facebook Watch.