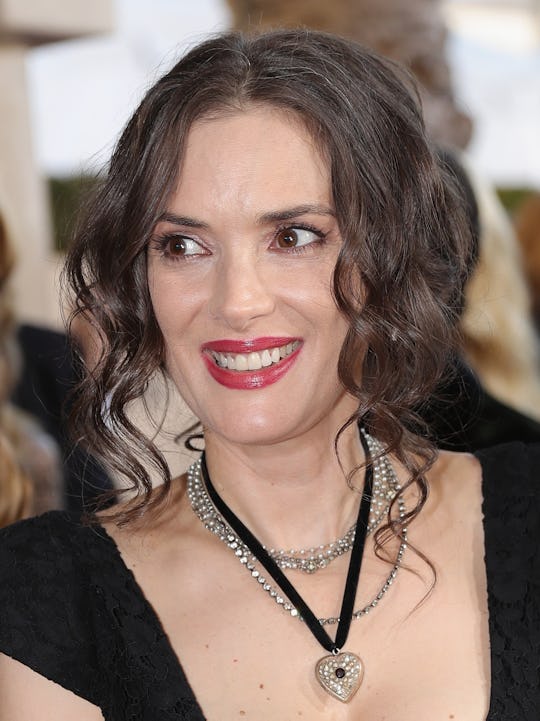 Neilson Barnard/Getty Images Entertainment/Getty Images
Winona Ryder's Hair Commercial Has The Internet Swooning For Good Reason
Winona Ryder has been staging a comeback and honestly, I doubt there's a single person on the planet who isn't totally ready for it. I mean, hello Stranger Things. But that's not all. Just check out the internet's reaction to Ryder's hair commercial during the Golden Globes. The swoons were real, guys.
Winona Ryder, the darling of the grunge generation of Gen Xers like this girl right here, joyfully came roaring back on the scene as single mom Joyce Byers on Netflix' Stranger Things. Before Stranger Things, it's not exactly like Ryder was missing in action. She starred in Black Swan opposite Natalie Portman and Mila Kunis, and has had smaller roles in various movies throughout the past 20 years. But it was her edgy, ragged role as exhausted, terrified single mom Joyce in Stranger Things that really brought Ryder back front and center. And fans were stoked about it, of course. Because Ryder has always been such a talented actress, but also because everyone loves a great comeback. And now, it seems, L'Oreal is capitalizing on Ryder's new role as the comeback queen. The company's Elvive Hair Care line chose Ryder as their spokesperson to promote the fact that L'Oreal "celebrates the fact that hair can make a comeback from damage."
No surprise then that when Ryder's commercial aired for the first time during The Golden Globes, Twitter was ready to give a standing O for her official comeback commercial.
In the commercial, a woman (spoiler alert, it's Winona Ryder) in a dress is walking into a swanky hotel room. Her back is to us as she fiddles with her hair and looks to be reading lines. The commercial ends when she is called to perform, and then we see it's definitely Winona Ryder. The tagline?
Everyone loves a comeback.
Especially if it's a certain actress, it seems. Because fans were ready to give that hair care commercial a Golden Globe of its own.
What is it specifically about Winona Ryder, also known as the girl from Beetlejuice, that has everyone so excited precisely? It could be a few things. So many people remember her from their favorite movies like Little Women and naturally the iconic teen angst film Reality Bites, it makes sense that fans would be invested in her happiness, I think.
Or else everyone is just really glad to get her back on the screen. Either way, it's great to have her back.
The people of L'Oreal are clearly creative geniuses, pulling on fans' Winona Ryder nostalgia heartstrings to get people to buy hair care products. As L'Oreal senior vice president of marketing Anne Marie Nelson-Boggle told WWD:
"Everyone does love a comeback, and we will be communicating that damaged hair deserves one, too. For Winona, we know that from TV sets to the red carpet, her hair has gone through many transformations—her hair is dry and damaged."
It isn't only Winona Ryder's hair that has gone through many transformations (although does anyone else miss her trademark pixie cut? Because I definitely do). She has gone from a preteen, precocious actress in the '80s to a rebellious young woman in the '90s to a 46-year-old actress with serious screen presence who is ready for her comeback in the 21st century. Here's hoping fans have years and years of watching Winona Ryder go through whatever metamorphosis she chooses. And here's hoping she continues to be celebrated not only by her many fans, but by companies like L'Oreal. A company that doesn't just celebrate a good comeback story, but the stories of women throughout the decades. It's a pretty beautiful step in the right direction, and I'm glad Ryder was the face behind the change.
Check out Romper's new video series, Romper's Doula Diaries:
Watch full episodes of Romper's Doula Diaries on Facebook Watch.