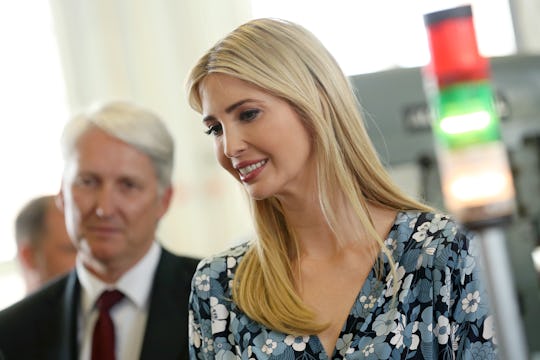 Sean Gallup/Getty Images News/Getty Images
'Women Who Work' Quotes That Contradict Her History
Ivanka Trump's new book Women Who Work: Rewriting the Rules for Success may have been completed before her father, President Donald Trump, won the election, but the fact that they are now both in the White House (Ivanka is an unpaid assistant to the president) means her words have naturally become more important. Reviews of Women Who Work have noted that Ivanka doesn't particularly say much of value beyond a handful of cliches in between numerous quotes from others, but the Women Who Work quotes that directly contradict other things she's said show that she may not even potentially entirely agree with the points she did actually raise in her book.
To be fair, it's clear that Ivanka's book was never actually intended to be political. At the time she wrote it, according to Fortune, the first daughter was a private businesswoman — both as an executive of the Trump Organization, and as the head of her own apparel and accessories company — who was married to a real estate developer with whom she shared three young children. It made sense, in a way, that she'd feel as though she could share with other women her particular version of "having it all," because it certainly appeared as though she had figured it out (albeit, presumably with plenty of help from nannies and/or other household staff). But now that she is in a unique position of influence in the Trump administration (as is her husband, senior advisor to the president Jared Kushner), knowing Ivanka's position on various issues feels particularly important.
Her Views On Paid Parental Leave
Ivanka's White House role isn't exactly a clear-cut one, and it's not even always easy to know what it is she is working on, or hoping to accomplish. But one issue she has repeatedly spoken about is her desire to champion a child care tax plan. Towards the end of her book, Ivanka shared how President Trump's campaign gave her "an unprecedented opportunity to advocate for change" for issues affecting women and mothers, and that she "felt it was [her] duty and obligation to take a stand on issues that contribute to wage inequality," like a lack of paid parental leave and "the lack of safe, affordable, high-quality childcare."
Speaking specifically about paid parental leave, Ivanka praised herself for running a family-friendly company. She wrote,
Current U.S. law also does not require companies to offer paid maternity, paternity, or adoption leave and, as a result, only 10 percent do. My company is one of them. I also provide the employees of my brand with flexible work schedules to accommodate various caregiving and personal responsibilities and priorities, as well as the ability to work from home when necessary.
There's no question that it's important that Ivanka introduced these benefits to her employees, not just because it's the right thing to do, but because she's since championed the issue of child care and paid maternity leave as part of her father's presidency. According to Bloomberg, Trump's child care tax plan released in September was one in which Ivanka had significant input, and in the past few months, she has continued to lobby for it. Though critics have said it would actually end up providing the biggest benefit to wealthier parents more than those who actually need it, Ivanka's plan would at least require employers to provide six weeks of paid maternity leave to women.
Interestingly though, in Oct. 2016 a former employee of Ivanka spoke out against her ex-boss's position as a champion for maternity leave, according to New York Magazine. In a Facebook post, former Ivanka Trump creative director Marissa Velez Kraxberger wrote that when she first interviewed for the position in 2013 while two months pregnant, she'd asked her prospective boss about the company's maternity leave policy. Ivanka's response, according to Kraxberger, was that "they don't offer maternity leave and that she went back to work just a week after having her first child." Kraxberger said that she ultimately took the job, but that she and her colleagues had to fight "long and hard to get her to finally agree to 8 weeks paid maternity." Ivanka Trump's brand didn't immediately respond to Romper's request for comment.
Her Views On The Wage Gap
In a Wall Street Journal op-ed in September 2016, Ivanka wrote about the effect of motherhood on wage inequality, and the fact that allowing American families access to "quality, affordable child care," was a crucial part of closing the gap. That's an important cause, because motherhood really does hurt women's income potential, but in reading Women Who Work, you wouldn't necessarily know that she even knew the gender pay gap existed. That's because the bulk of her book discusses the notion that anyone can succeed, regardless of circumstance, if they work hard enough. She also positions herself as proof positive that you can have both professional success and be a dedicated wife and mother (suggesting, perhaps unintentionally, that there aren't still very real obstacles that prevent women from achieving the same level of success as men).
In her book, Ivanka tells readers that "no matter your age, your background, your education, or your successes, we are all granted 168 hours a week," and notes, "my father has always said, if you love what you do, and work really, really hard, you will succeed." She discusses at length her view on being proactive (basically, that successful people are productive and choose their behavior, while "negative" people are "frequently victims of circumstance") and also often makes mention of her own work ethic:
Anyone who knows me knows that I will outwork anyone. No matter where you went to school, your diploma will take you only so far. If you are laser focused and fiercely devoted to your purpose, you are far more likely to succeed.
That's an interesting perspective to take though, if you also believe that the wage gap is a real problem. After all, are you a "victim of circumstance" for only making a fraction of a man's salary? It's unclear where Ivanka truly stands on this issue — does she believe income inequality is institutional, or does she think we should just all try to work harder? But perhaps, at least, he op-ed suggests that she may be more concerned about inequality than her book lets on.
Her Views On Empowering Mothers
A major theme of Women Who Work is the notion that millennial women should be empowered to be both successful at work and at home with their families, and in the book it seems as though Ivanka is pretty resolute on her commitment to that ideal. But despite writing more than 200 pages about how this should be the time when young women take control of their lives and destinies without apology, she seemed to be rather uncomfortable talking about some of the very real obstacles that stand in many women's way.
In Sept. 2016, Ivanka spoke to Cosmopolitan about her father's child care plan, and while she seemed confident discussing her usual talking points (child care is important, women deserve more), the interview hit a pretty sour note when she was asked about a comment her father made to NBC News in 2004 claiming that pregnancy is an inconvenience to a business. According to Cosmopolitan, Ivanka responded by saying that she felt there was "a lot of negativity in these questions," and told the interviewer that she "[didn't] know how useful it is to spend too much time with you on this if you're going to make a comment like that." After reiterating that she thought her father was supportive of employing women, and that his child care plan was a good one, she ultimately wrapped up the interview and said she had to go.
Of course, it's entirely possible that in the short time that Ivanka Trump has worked at the White House, her views on certain matters have changed. It's also entirely possible that since she wrote the book before Trump won the presidency, she never envisioned that she'd eventually be expected to take a more specific position on these issues beyond just being able to encourage women to live their dreams and make time for girls' getaways.
But since the world is paying close attention to what Ivanka says and does — especially given her important position as a close advisor to the POTUS — it's only fair that we expect her words to matter. And the clearer she can be about exactly where she stands, the better.