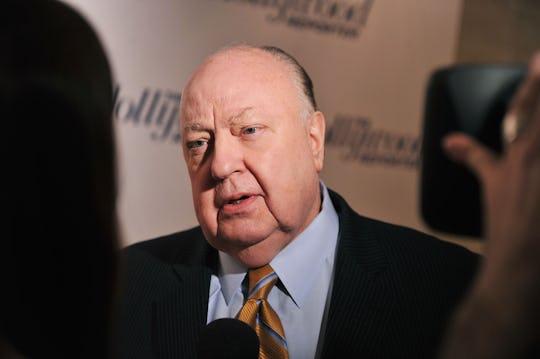 Stephen Lovekin/Getty Images Entertainment/Getty Images
Women Respond To Roger Ailes' Death
As news broke this morning that Roger Ailes, founder and former CEO of Fox News has died at the age of 72, the internet exploded with responses. While many mention Ailes' contributions to cable news and politics, women's responses to Roger Ailes' death suggest he shouldn't only be remembered as a TV powerhouse — he should also be remembered for the many sexual harassment allegations against him.
Ailes' name is synonymous with Fox News, and for good reason. According to CNN, Ailes started the news network from scratch in 1996 and was "arguably the most powerful man in media." But that all changed in the summer of 2016 when Ailes resigned from Fox News amidst sexual harassment allegations from many women, including several of Fox's own female anchors.
The downfall of Ailes started with Gretchen Carlson, a former Fox News anchor who filed a harassment suit against Ailes a month after she left the network. The New York Times reported that Carlson accused Ailes of ogling her in her office, calling her "sexy," and, horrifically, even asking her for a sexual relationship during a meeting. Ailes denied the claims.
More allegations piled on after Carlson came forward, especially as an internal investigation was started at the network, noted CNN. Former Fox News anchor, Megyn Kelly, wrote about the sexual harassment she experienced from Ailes in her memoir, and didn't hold back when others slammed her for the accusations, including Kelly's colleague, Bill O'Reilly. (Notably, O'Reilly is no longer a part of Fox News and has also been accused of sexual harassment from several women.)
As recently as April of this year, Ailes has continued to be accused of sexual harassing women. The Guardian reported that Fox News political commentator Julie Roginsky filed a lawsuit against Ailes, alleging that he made sexual advances against her and penalized her when she denied them. The Guardian noted that more than 20 women have come forward with sexual harassment allegations against Ailes.
Which is exactly why his death has sparked such a passionate response from women — and the world needs to listen. Despite resigning from Fox News and despite Carlson receiving a settlement for $20 million, Ailes' supporters and fans refuse to acknowledge all of the sexual harassment allegations that have piled against him. It's terrible enough that people refuse to believe women (no matter how many there are) when they accuse a powerful man of sexual harassment, but to make that man out to be a hero in his death is too much. Nobody's arguing that Ailes didn't create an empire in Fox News, but that he should be remembered for more than just his business prowess and his alleged victims shouldn't be forgotten either.
It's worth noting, however, that not all women believe the allegations against Ailes are true. In fact, there are plenty of responses from women that perpetuate rape culture, some going as far as to blame women like Kelly and Carlson for Ailes' death.
Ailes may have denied the allegations, but that doesn't make them any less important. By ignoring the claims of sexual harassment, society continues to push rape culture, arguing that sexual harassment is no big deal — as long as you're powerful. Regardless of how you feel about Ailes' death, the responses from women are worth listening to and remembering.