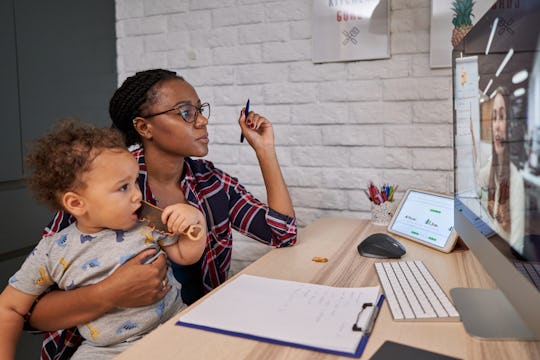 FluxFactory/E+/Getty Images
These 8 Work From Home Care Packages Are What Every Exhausted Mom Needs
Aside from frontline workers, who isn't working from home these days? With business offices shuttered due to COVID, most of us have become all too familiar with Zoom and its ever-present gloom. When doom-scrolling isn't enough to get us through the day, a care package sure would be nice. But what do you send a mom who's juggling parenting, virtual learning, and her own deadlines? We're glad you asked. Here are 8 care packages for moms working from home.
Turns out, many companies are taking advantage of the WFH struggle by designing unique gift boxes full of pick-me-ups for stressed out moms. There are the obvious items like chocolate, candles, and bath salts, but we're even more excited about the unexpected additions some of these care package come with, like one that features a satin eye mask or the Chill Mode box that sends out a Calm The F*ck Down Journal. Yes, please. While each pack is different, the concept is the same: Give moms who are trying to find the time to video conference and create spreadsheets while hushing tantrums and making yet another toddler snack a little something to help them relax. And though the cost of these packages vary from as low as $36 to $100+, can you really put a price on tools to help provide a little peace and quiet? Ask a mom and 9 times out of 10 the answer will be "No, no you cannot."
We only include products that have been independently selected by Romper's editorial team. However, we may receive a portion of sales if you purchase a product through a link in this article.