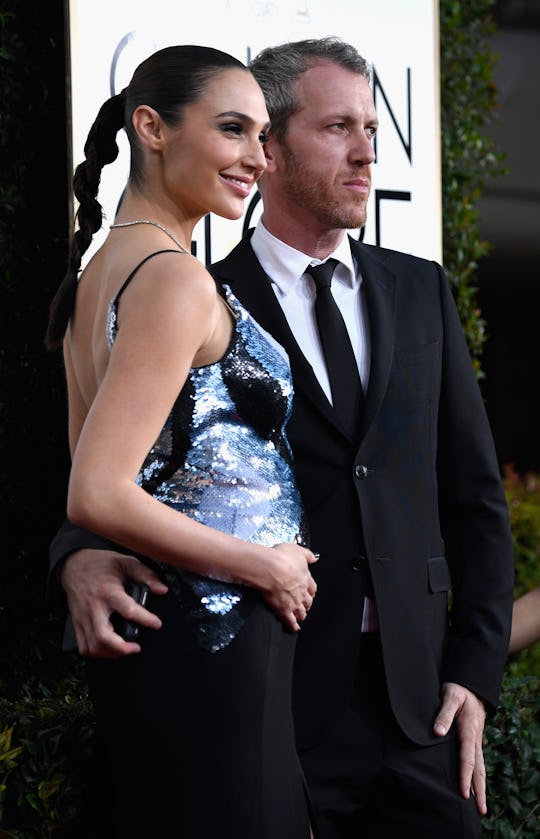 Frazer Harrison/Getty Images Entertainment/Getty Images
Yaron Versano's 'Wonder Woman' Shirt Is Amazing
While many husbands will argue that they are married to a wonder woman, they are not actually married to the Wonder Woman (or the woman who portrays her inWonder Woman), Gal Gadot — except Yaron Versano, who has been married to Gadot for the past eight years. While Gadot only plays Wonder Woman on the silver screen, she is a bit of a wonder herself. This is proven by Yaron Versano's Wonder Woman shirt, that shows how proud he is of his own personal super hero.
Gadot is a woman of many talents — she's an actress, she's a pretty good singer, and was five months pregnant with her second child while portraying the kick ass character of wonder woman. Anyone would take pride in these accomplishments, especially Gadot's husband who has been there by her side for quite some time; that's a given. But now Versano, an Israeli real estate developer, can really let everyone know how proud he is of his wife (and subtly let others know that he's basically married to the coolest woman around) with his amazing shirt that he was photographed wearing.
In the photo, posted to Reddit last night, Versano is seen wearing a shirt with the generic "woman" symbol with the words "your wife" underneath. Next to that is a silhouette of Wonder Woman with the words "my wife" underneath the image. The shirt is basically made for Versano to wear it every day.
Everything about the photo is so good and it's not just Versano's shirt — it's Gadot's wide smile, the casual atmosphere, and the fact that they look like your fun neighbors next door — that make it awesome.
But let's be real, Versano's shirt is the real thing worth talking about here, and you're probably already wondering how you can buy one for your husband, because you're a wonder woman, too. Luckily, for all husbands out there, Versano's shirt is available on Amazon and comes in five different colors and six different sizes. And you don't need a multimillion dollar box office budget to purchase it — the shirt retails for $15.99 and is eligible for free two day shipping with Amazon Prime, just in time for a belated Father's Day present.
Versano is quite possibly the only person in the world that can claim he is married to the wonder woman and should rightfully wear that fact with pride. His shirt and the expression on his face while wearing it says it all.