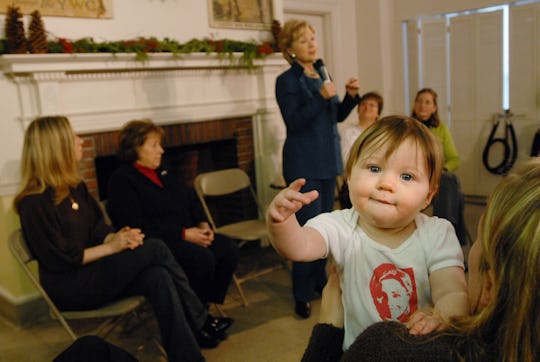 Darren McCollester/Getty Images News/Getty Images
YMCA Is Offering Free Childcare On Election Day So Parents Can Vote Worry-Free
As a well-seasoned parent of four boys, I can tell you there are a few places you want to avoid with kids; number one, grocery stores. Like, every time. Number two, malls, if you want to buy grown-up lady clothes. And I'm guessing number three could very well be the polling station. Imagine trying to cast your vote in a sweaty room full of other anxious voters while your kids cries or throws a tantrum or something. No thank you. Luckily, this year parents are covered. YMCA is offering free childcare so parents can vote on Election Day — and I'm wondering if they might let you do a few groceries and maybe grab a quiet bite to eat while they're at it....
According to Fox News, the free childcare is offered as part of a program called "Zoe's Kids Day Out," an initiative by the YMCA to someday elect 1-year-old Zoe for president. YMCA President and CEO Kevin Washington told The Huffington Post:
Election Day is arguably one of the most important days in the U.S. this year — the ultimate opportunity for Americans to make their voices heard through the democratic process. Unfortunately, many people who want to vote find it challenging because they have to take children with them. The Y's hope is that Zoe's Kids Day Out initiative enables those parents and caregivers to exercise their right to vote, and ensures children can spend their time in a safe, nurturing environment.
This year in particular, with election day falling on a Tuesday (Nov. 8, in case you haven't heard), free childcare should come as an exceptionally welcome surprise to parents. While not every YMCA location will be offering free childcare, and some might be asking for a nominal fee or donation, quite a few are listed on the organization's website, free of charge.
YMCA President Washington explained to The Huffington Post why voting this year is perhaps even more important than it ever has been:
This is arguably the most important presidential election in American history, and unfortunately the polls have tightened over the past week. It's crucial to make our voices heard and no one should be denied that opportunity.
As Democratic nominee Hillary Clinton, the first female presidential nominee in history, prepares to end her difficult campaign and possibly head to The White House, the initiative to someday make little Zoe president too feels more relevant than ever.
Kudos to the YMCA not only for helping parents get out there to rock the vote, but for recognizing the historic significance of potentially voting in the first female president in history.