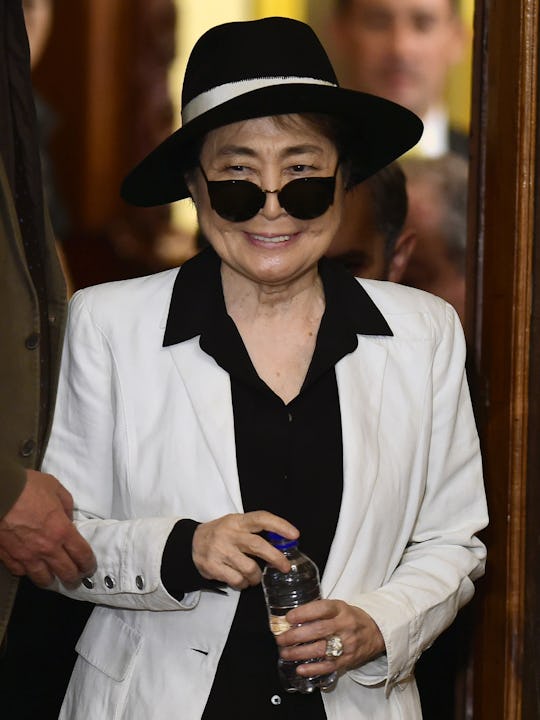 ALFREDO ESTRELLA/AFP/Getty Images
Yoko Ono's Gun Control Comments On Anniversary Of John Lennon's Death Are Heartbreaking
It has been 36 years to the day since Mark David Chapman fatally shot John Lennon. Lennon was just 40 years old at the time of his death, which seems so totally impossible to some of us. To think of the impact he had on the world in such a short space of time, the impact he could have continued to have on the world, if only Mark David Chapman, who lives on to this day, hadn't wanted to get famous by shooting Lennon. Fittingly, Lennon's widow, Yoko Ono, has made a plea for gun control on the anniversary of his death, because her brilliant, visionary husband was by no means the last "if only" or the last story that will never be told to completion.
In fact, since Lennon's death in 1980, there have been 1.2 million people killed by gun violence in America alone. Ono took to her Facebook page, Imagine Peace, to call for stricter gun control not only for the sake of Lennon's memory, but for the millions of people who have been "hollowed" by gun violence in the past 36 years:
Dear Friends, Every day, 91 Americans are killed with guns. We are turning this beautiful country into a War Zone. Together, let's bring back America, the green land of Peace. The death of a loved one is a hollowing experience. After 36 years, our son Sean and I still miss him. Yoko Ono Lennon 8 December 2016.
Ono's post on Facebook has already been shared over 25,000 times. While most people supported Ono's stance on gun control and sympathized with her loss, too many responses were depressingly familiar:
"Guns don't kill people; people kill people."
"I love firearms, from the ballistics science to the aesthetic beauty, to the pure functionality of self defense. I am 100% confident I will not shoot anyone unless it is in defense of my life or my family's life. There are millions like me and it is wrong to suggest you strip us of our rights."
John Lennon was married to Ono, and the father of Sean (his son with Ono) and Julian from his first marriage to Cynthia Powell, when Chapman killed him in the street outside the Dakota, the apartment where Lennon was living with his family. Chapman has attempted to get released on parole many times, and at his most recent parole hearing he shared heartbreaking details of the day he shot the music legend:
He came out, and this is a part that I really regret happening, he came out and as a ruse, I had his album and a pen and I asked him to sign the album. He took his time. He asked me if I wanted anything else. His wife had come out with him and she was waiting in a limo and that's something I often reflect on how decent he was to just a stranger. He signed the album and gave it back to me. He got in the limo.
Despite the ex-Beatle's kindness and generosity of spirit, Chapman returned later that evening to shoot Lennon with a .38 caliber revolver. He was also carrying the book The Catcher In The Rye by J.D. Salinger.
So why did Chapman shoot him? He told the three-member parole board:
I was obsessed on one thing and that was shooting him so that I could be somebody.
A self-professed sociopath with an obsessive urge to shoot someone to gain celebrity simply should not have had access to a gun. Period. Hopefully that lesson is one the country will take note of — someday.