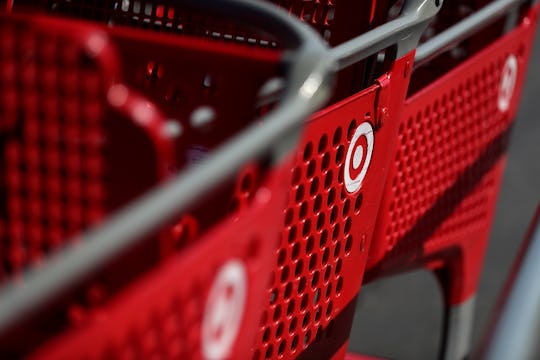 Justin Sullivan/Getty Images News/Getty Images
PSA: Target Will Take Your Old Car Seat & Give You A Discount For A New One
It was a brilliant idea the first time around in the spring when Target let parents trade in their old car seats for a discount on a new one. When little ones are growing like weeds, it honestly killed two birds with one stone. Not only do parents save money, but they also get to offload a bulky car seat that would probably take up precious storage space for way too long. All while actually doing something good for the environment — no wonder the idea went over like gangbusters. Parents loved Target's car seat trade-in program so much last spring that now the program is making another limited time appearance.
According to a Sept. 5 press release, Target has decided to bring back the car seat trade-in program just in time for National Baby Safety Month:
We're committed to ensuring that kids and babies have the right car seats that meet current safety standards and we're always looking for ways to make recycling easy. So what better way to accomplish both, than with one stellar program?
Starting Sept. 10 and continuing through Sept. 23, Target will accept all car seats to be recycled. The press release also announced:
In turn, guests will receive a 20 percent off coupon, good for the purchase of a new car seat, including booster seats, car seat bases and travel systems.
Target teamed up with TerraCycle, a company that "recycles and upcycles waste instead of incinerating or landfilling it, which is a significantly better solution for waste than traditional methods," according to its website. The company added, "We also provide 'waste' with a new life, creating usable new products out of items that would have simply been thrown out."
If the original Target car seat trade-in program is a barometer for how much waste could be kept out of landfills by recycling car seats, it's significant. Target vice president of apparel and accessories Michelle Wlazlo said in a press release:
After collecting more than a million pounds of car seat material to be recycled from the program in April, we're excited to be bringing this amazing program back. We're always looking for ways to make the lives of our guests easier and we're proud to be able to help them reduce household clutter in a responsible and environmentally-friendly way.
This time around, Target anticipates that 700,000 pounds of car seat material will be recycled from the 13-day program in September. The original car seat trade-in happened in April in honor of Earth Day, and saw 80,000 car seats recycled, according to Good Housekeeping.
To take part in the car seat trade-in program, just bring your old car seat to your nearest Target store between Sept. 10 - Sept. 23 (but be keep in mind that small-format Targets are not part of the program), and get your 20 percent off coupon for a new car seat. You have until Oct. 7 to redeem your coupon on a new-and-improved car seat for your little one.