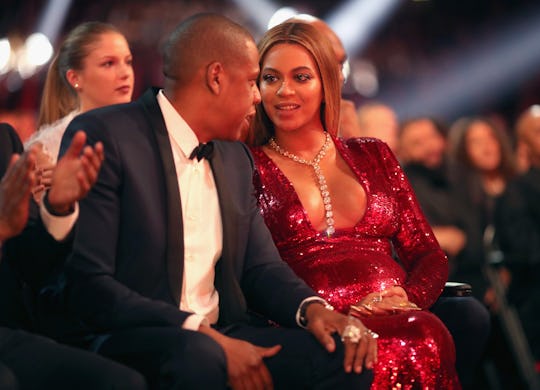 Christopher Polk/Getty Images Entertainment/Getty Images
You Have To See What Beyonce's Twins' Room Might Look Like
Stop the presses! Although the Beyhive has no official confirmation about anything concerning the Carter twins, rumor has it that the family has left the hospital and is resting comfortably at home. Of course, "home" is hardly a word anyone would use to describe the massive, amazing Malibu compound the Carters are renting for the summer. And when you see what Beyoncé's twins' rooms might look like, you will no longer doubt (if you ever did) why fans call her Queen.
No matter how many episodes of Million Dollar Listing or Cribs you've watched in your lifetime, you will not be prepared for this home. According to Vogue, the family left the hospital earlier this week and went straight to this stately, sprawling mansion in Malibu. If this home isn't your happy place, you should just turn around right now and go think about your life. Because the Carter family is obviously living their dream.
With 6.3 acres of tennis courts, various indoor and outdoor pools with fountains, 10 bedrooms and 14 bathrooms, it's a real estate fantasy come true. The new babies and Beyoncé will be totally comfortable while Jay Z and Blue Ivy play in the main swimming area, which has 20-foot glass ceilings and gesso mosaics, by the way.
(But please, you know, don't go bugging them or asking to camp in their yard overnight, because that's creepy AF, guys.)
Seriously, Come ON:
Which Of The 10 Bedrooms Will Be The Nursery?
Hey, Blue, Up For Some "Marco Polo?"
Tina Knowles was allegedly spotted pulling up to the compound this Sunday, where the family was already posted up. The home, which sells for $54.5 million, is being rented by the family for the rest of the summer for $400,000 a month. So, uh, it's basically a bargain. It's owned by real estate mogul Richard Weintraub, who originally listed the home at $75 million back in 2010. Maybe Jay Z can negotiate a deal if the twins turn out to love the marble floors.
The villa might look familiar to some TV fans. It was used as a set in True Blood, standing in as the home of Queen Sophie-Anne, the vampire queen of Louisiana. It was also featured in Funny People and I Love You, Man. Yes, thaaaat's where you've seen that indoor pool before.
Here's The Full Property Listing Video
The villa is on a bluff overlooking the Pacific Ocean and has a rose garden with 1,000 bushes, a landscaped desert area just in case that's too lush for you, and a staff housing complex. The tennis court even has a viewing deck. What better place to stage an Instagram Story announcing the twins' arrival into the world?
According to The Daily Mail, the furnishings are "museum quality" and include 18th century chandeliers made of rock crystal and a 2,500 year old lion's bust that was found in Pompeii, Italy. All of the new baby stress will likely be easier to handle in a gorgeous setting like this one. Let's just hope they can keep the spit up off of the upholstery.