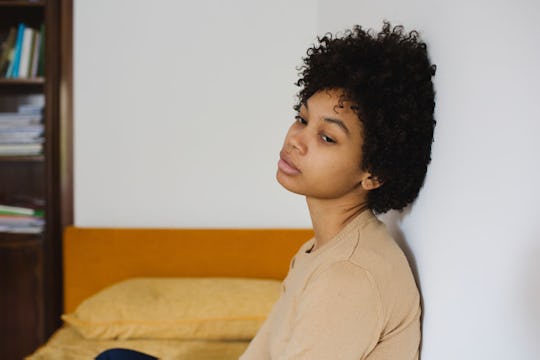 Michela Ravasio/Stocksy
You May Have Rejected Child Syndrome If You Have These 7 Thoughts About Your Mom
The experiences we have as a child — good and bad — can affect us long into adulthood. Many times, however, we don't even realize the little and big ways these experiences have left their mark, summing things up with, "That's just how I am," or "That's just how my family is." However, our own thought patterns can tell us a lot — and if you have these seven thoughts about your mom, you may suffer from Rejected Child Syndrome.
While "Rejected Child Syndrome" isn't an official diagnosis, it's nonetheless something experienced by many children. In an article for PsychCentral, licensed psychologist and marriage and family counselor Dr. Marie Hartwell-Walker described the phenomenon. "It goes well beyond 'favoritism.' These teens and adults feel actively disliked by their parents," Dr. Hartwell-Walker explained. "They report being beaten, yelled at, berated, and belittled. Sometimes they even report not being adequately fed and cared for while other children in the family do get at least the minimums and often far more than the need." Because these children are being rejected in various ways by the person (or people) who are supposed to be their ultimate protector, it's particularly traumatizing.
In some instances, the Rejected Child Syndrome occurs or is exacerbated because of an underlying issue in your parent. "This is especially acute if you have a parent with borderline personality disorder or another mental health issue, which regularly dismisses a child's needs (for example, mental, emotional, social or physical)," Maureen Healy, author of The Emotionally Healthy Child and creator of the website Growing Happy Kids, explains to Romper. In other cases, Rejected Child Syndrome can stem from an unplanned or unwanted pregnancy, gender favoritism, or simply feeling overwhelmed. While there are many different ways Rejected Child Syndrome can manifest in adulthood, having the following thoughts about your mother can certainly be a symptom.