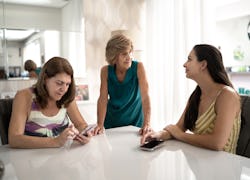 These 15 Signs Mean You Might Have A Toxic Relationship With Your Mom
FG Trade/E+/Getty Images
Here's what to watch out for.
She's supposed to be your first love, your biggest cheerleader, your best friend. And for many people, their mothers do fulfill that role — and so much more. Unfortunately, not everyone has that same relationship with their mom, and in fact, might have the opposite experience. But if walking through the card aisle on Mother's Day makes you cringe, (or avoid her calls entirely), it could be just one of the many signs that you have a toxic relationship with your mom.
"When we talk about relationships with our moms, we have to acknowledge that we all have this ideal Mom ingrained in our psyche (i.e. someone who provides unconditional love and support, is nurturing, engaged, and protective)," Dr. Amanda Darnley, PhD, a licensed psychologist, explains to Romper. "And when that ideal doesn't match up with reality, children tend to blame themselves for the disconnect, rather than blaming mom — even adult children."
It can be even tougher to admit that your relationship might be rocky with your mom because children of any age will look up to their parents as role models and try to forgive their faux pas, no matter how frequent or unforgiveable they might be. "As adults, we tend to find familiarity comforting, so it's hard to reconcile the idea that we would find toxicity comforting," says Dr. Darnley.
Now, as you go through this list, it's important to keep some perspective. If your mom shows some signs of toxic behavior, you need to ask yourself how frequently these incidents are occurring. "Despite the standards we tend to hold them to, moms are human, which means they get to make mistakes; they aren't going to get it right all the time," says Dr. Darnley. "The relationship becomes toxic when the behaviors on this list are pervasive." So if there's a consistency of bad behavior that doesn't stop after speaking with your parent, only then will you truly be able to tell if you're in a toxic mother/daughter relationship.
This article was originally published on