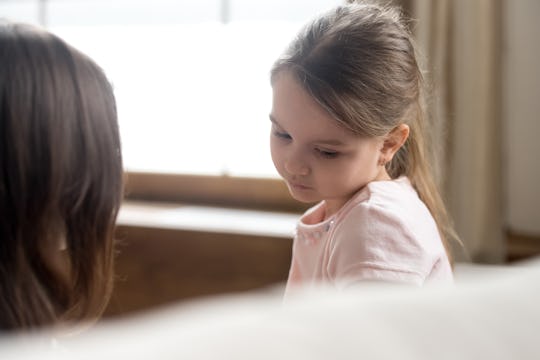 Shutterstock
9 Things You Won't Remember If You Had A Toxic Parent & What That Means
A toxic parent's actions can seem obvious in hindsight, making you question why you didn't see how wrong they were when you were young. But there are actually a lot of things you won't remember if you had a toxic parent, and it's the absences that might actually be the clearest signs of their harmful behavior. Think of it like reading between the lines.
It's hard to spot a toxic parent as they're raising you, especially because they're all you know. That's why a lot of people don't figure out just how damaging their mom or dad's behavior was until they're an adult, as they work through their issues with a therapist or are exposed to healthier models for parenting. As you swap childhood stories with a partner or friends, the level of harm you endured may become more clear; likewise, raising your own children may make you realize some of the actions you normalized in your parents are things you would never do to your own children.
Bottom line: The things you didn't experience in your youth might be the biggest indicator that something was wrong, and coming to terms with what you missed out on can help you move forward from your toxic parent's inhibiting nature. Read on for some of the things you may not remember.