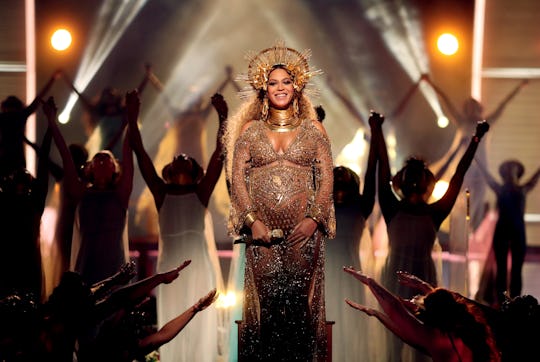 Christopher Polk/Getty Images Entertainment/Getty Images
Beyonce's Twins Might Get The Nicest Pacifier Ever
If you're a fan of Beyoncé, then you're no stranger to the many rumors about her twins. From allegations about the babies' names to questions about when they were actually born, there has been a lot of speculation to keep up with. As for the latest rumor about the twins, it centers around their pacifiers. According to Life & Style, Beyoncé reportedly dropped some major dough on this standard item for babies. You probably won't believe how much Beyonce twins' pacifier is rumored to cost. Beyoncé's representative did not immediately respond to Romper's request for comment.
It's not uncommon for parents to want to pamper their kids. For celebrities like JAY-Z and Beyoncé, pampering is a bit easier to do thanks to a little thing called money. Although it's not hard to imagine JAY-Z and Beyoncé showering their new twins with gifts, the rumor about the pacifiers is still a tad outlandish. According to Life & Style, JAY-Z allegedly bought the babies "$2.5 million bejeweled pacifiers by Suommo and a 3-carat diamond pacifier set in 18K white gold for $17,000."
To put this supposed mammoth purchase in perspective, a pacifier at Babies "R" Us retails for about $5.
Obviously, it's totally OK if this rumor about the luxury pacifiers are true. If Beyoncé and JAY-Z want their kids to have bejeweled pacifiers, then why not? An insider explained to Life & Style:
The twins' luxe lives are easily in the $10 million range. Bey and Jay can afford to pamper them like a prince and princess.
Even though the pacifier rumor has yet to be confirmed, the purchase could make sense given their pampering of their 5-year-old daughter Blue Ivy. According to the Daily Mail, Blue donned a "$26,000 silk-chiffon Gucci gown," at the premiere of Beauty and the Beast back in March. Obviously, the expensive Gucci dress isn't the only designer gown Blue has rocked over the years. In February, Blue wore a $1,700 Gucci ensemble to an NBA All Star Game in New Orleans, according to BET.com.
As for the pampering Blue got as a baby, JAY-Z once purchased her a "$1 million" nursery filled with "toys" at the Barclays Center, according to Us Weekly. To make life even more sweet for Blue, she was given a custom-designed $800,00 diamond-encrusted Barbie doll at her first birthday party, according to The Sun. An insider said to The Sun at the time:
Nothing's been too big or expensive for their little princess. They wanted her first birthday to set the tone for the rest of her life. They work hard for their money and the first thing they want to spend it on is their baby girl.
Well, if Blue's luxurious life is any indication, it's likely JAY-Z and Beyoncé will follow suit with her siblings. As sources have pointed out, Beyoncé and JAY-Z work hard for their money, so if they want to buy gifts their kids with the fruits of their labor, that seems reasonable. Although the rumor about the twins' expensive pacifiers might prove to be false, it's OK — albeit unimaginable for most people in terms of cost — if it turns out to be true.