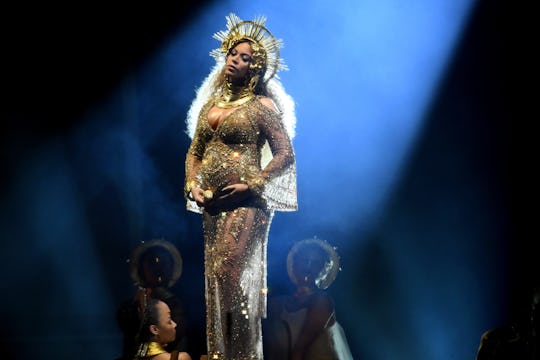 Kevork Djansezian/Getty Images Entertainment/Getty Images
Beyoncé Has Officially Welcomed Two New Members Of The Beyhive
The Beyhive has grown by two today. On Saturday, it was announced that Beyoncé has reportedly given birth to twins, and, as you can imagine, the internet has basically shut down by the news. In February, Beyoncé epically announced her pregnancy with an Instagram photo to end all pregnancy announcement Instagram photos. "We are incredibly grateful that our family will be growing by two, and we thank you for your well wishes," the singer wrote. And grow by two it has with the news that she and husband Jay Z have reportedly welcomed their twins. (Romper reached out to Beyoncé's rep for comment, but did not hear back at the time of publication.)
UPDATE: TMZ reported on Sunday that Beyoncé's twins were still in the hospital for a "minor issue," but, according to a source, were "expected to be okay." Beyoncé herself was also reportedly still in the hospital, but would likely be "okay" as well, the source claimed. The outlet did not know the nature of the twins' condition. Later on Sunday, Us Weekly reported that, according to anonymous sources, Beyoncé and Jay Z had welcomed a baby boy and baby girl. The singer's reps did not immediately confirm the reports or release the twins' names.
EARLIER: Since the pregnancy announcement, fans of the 20-time Grammy winner have been sitting at the edge of their seats for more news about Beyoncé's babies. For the most part, the singer has been relatively quiet, except for a generous amount of maternity looks on Instagram that she absolutely had people freaking out about on the social media app. She also stunned audiences at the Grammy Awards with a beautiful (and over-the-top, as it should be) performance, just two weeks after announcing that she was expecting.
Mid-May, Beyoncé's father, Mathew Knowles, hinted that his daughter was more than two weeks away from giving birth, but didn't hint at anything more — truly leaving fans hovering over the Instagram app, waiting for the photo to drop. And now, the day has come. The Beyhive has grown by two, and all is right in the world. (Yes, that's the power of Beyoncé.)
On Saturday, Us Weekly reported that Beyoncé gave birth to twins earlier this week, multiple sources tell Us Weekly.
At the time of the reports, Beyoncé and Jay Z have remained rather mum on social media, and have not released a statement. But, that doesn't mean there weren't hints that Beyoncé had welcomed her new twins. According to E! News, "an unidentified woman was photographed Friday at a Los Angeles hospital, carry a bouquet of pink, purple and blue flowers with two giant foot-shaped pink and blue balloons that read, 'Baby Girl' and 'Baby Boy'." And, sure, that's not a ton to go off of, but the E! News report also mentions that the card that the balloons came with read "B & J."
Suffice to say, fans are definitely going to be thrilled to hear more about the reported Beyhive members. Now we just wait for that announcement to come from Queen Bey herself, and all will be right in the world.