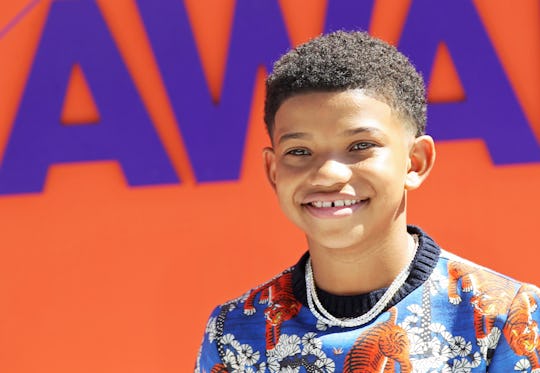 Bennett Raglin/Getty Images Entertainment/Getty Images
Young Randall From 'This Is Us' Stood Up To His Bullies With This Brave & Powerful Message
It's difficult to understand the way a bully's mind works, especially when the bully is an adult and is merrily hiding behind the giant megaphone that is the internet. How does a person see a small child and think, I'm going to make fun of that kid? How is that a thing that crosses your mind, even for a moment? Sadly this is the reality we live in. A place where child actors have to read terrible comments about themselves. But there is hope for the future. Young Randall from This Is Us stood up to his bullies with a simply brilliant comeback, and while he shouldn't have been bullied in the first place, it's nice to see he knows how to handle himself.
Lonnie Chavis plays young Randall on This Is Us, and it seems there are people out there who weirdly have a problem with him. Or more specifically, a problem with a little gap between the 10-year-old's front teeth. Apparently that small gap between his teeth was enough to get the trolls in a real lather, to the point where some were reportedly sending Lonnie messages on social media, according to BuzzFeed. Yes, you read that right. People were sending mean messages to a 10-year-old boy.
But this kid wasn't having any of it. On Tuesday, he shared a video on Instagram calling out the trolls.
Lonnie sent out a this "PSA" on Instagram, actually explaining to adults that the gap in his teeth will be fixed "once my baby teeth fall out" (and can we just talk about the fact that he felt he needed to say that?) before going on to say:
I'm gonna keep on smiling though 😃 🛑 STOP TROLLING 🛑 STOP BULLYING! Fix your heart! To all those being bullied or being trolled YOU ARE BEAUTIFUL, YOU ARE AWESOME, and YOU MATTER! ❤️ #FixYourHeart
He continued, "I could get my gap fixed, but could you fix your heart though? I mean, there are kids out here, like, killing themselves, just because of y'all hating and trolling and doing just crazy stuff. I mean is it fun? No. It hurts people. People kill themselves. And you're the one who's making them do it."
It's obviously beyond ridiculous that a 10-year-old child has to explain to people, some of whom could even be adults, that it's not alright to bully people. That making fun of a child's appearance could do irreparable damage to their self-esteem and even cause suicidal thoughts. According to Very Well Family, there is a strong link between bullying and suicides, with one-quarter of 10th graders who have been bullied admitting they've considered taking their own life.
No wonder the internet is basically giving Lonnie a standing ovation for standing up to bullies.
A few fans even took to Twitter to let Lonnie know he had inspired them to be proud of their gap, including former NFL player Michael Strahan.
No 10-year-old should ever have to deal with bullies. They should never have to defend anything about the way they look, the way they talk, the way they move... nothing. But it's good to know that Chavis knows how to handle himself in the face of social media trolls. I hope that he didn't take one single comment to heart. That he reads the outpouring of affection on social media in response to his comments and sees that as the take away from this experience.
I hope he continues to be the person he is growing to be; empathetic, thoughtful, and brave.