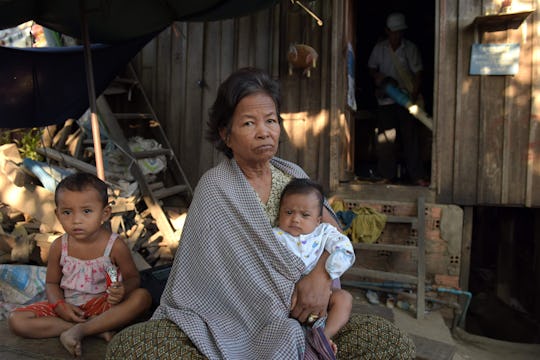 Tang Chhin Sothy/AFP/Getty Images News
Zika Is Comparable To The 1980s AIDS Outbreak, So Why Aren't People Doing More?
In the 1980s, awareness of AIDS entered the public consciousness, and with it came a marked admission from the medical community that they didn't truly understand the virus. The Americas (and now parts of Europe) are now facing a new health dilemma with similar characteristics: a top Brazilian researcher compared Zika to AIDS, in the sense that the medical community is dealing with an outbreak on a scale far larger than its current understanding of the disease. "The challenge for the scientific and medical community is comparable to what happened when we first knew about the outbreak of the HIV infection," Dr. Wilson Savino, a researcher at one of Brazil's largest health care centers, told CNN. "Every day, there is something new because it is a huge outbreak with very little scientific knowledge."
The outbreak of AIDS, too, was accompanied by misinformation and a scrambling as researchers tried to catch up on the virus' considerable head start. Zika first arrived in Brazil in late 2014, but since it was linked to diseases like dengue and chikungunya — which aren't considered too serious — it was only confirmed by health officials in May 2015. According to PBS, by that time, tens of thousands of people may have been infected, and it wasn't until October 2015 that health researchers began to make the link between Zika in pregnant women and microcephaly cases in their newborns, which were multiplying in prevalence across Brazil.
The World Health Organization first reported cases of Zika in Brazil in late October; the following month, it reported 399 cases of microcephaly and declared a national health emergency in the country. By that point, two Brazilian doctors had already alerted the Ministry of Health on the researched correlation between the two pandemics, and soon after, the European Centre for Disease Prevention and Control put out its first international alert, according to Medscape. The WHO continued to post disease outbreak news as Zika spread to Suriname, El Salvador, Guatemala, Mexico, the Dominican Republic, Haiti, Panama, and several other countries in Latin and South America. Several of the affected countries had asked women to avoid pregnancy.
Yet it was not until late January, on a Friday, that the WHO called an emergency meeting on the disease — for the following Monday. U.S. researchers Daniel Lucey and Lawrence Gostin criticized the WHO's delayed reaction to the Zika crisis thus far, according to CNN. "The very process of convening the committee would catalyze international attention, funding, and research," they wrote in the Journal of the American Medical Association, and pointed out that measures should have been taken earlier:
[WHO's] director-general was widely criticized for waiting 4 months after the first cross-border transmission of Ebola before declaring a PHEIC.
By many accounts the agency's failure to act decisively cost thousands of lives. Despite internal reforms, however, WHO is still not taking a leadership role in the Zika pandemic.
The international community cannot afford to wait for WHO to act.
The WHO meeting came soon after the first American baby with Zika-linked microcephaly was born, after his mother had traveled to Brazil the previous year. The first transmitted case of Zika — which was sexually-transmitted — in the United States was reported only two days after the WHO called the pandemic a global health emergency.
"The global HIV epidemic was allowed to escalate without anything near an appropriate scientific and medical response for decades," JD Davids, the editor of an HIV/AIDS website, told CNN, "largely due to the marginalized social status of so many who were affected, including gay people, drug users and people of color." The worry now with Zika-linked microcephaly is that it will be disproportionately affecting poor women in Latin and South America, many of whom have limited access to birth control and where abortions are usually illegal.
Already, researchers Lucey and Gostin have pointed out that WHO took too long to address Zika; Dr. Savino has compared current knowledge and research of Zika to the AIDS crisis; and three doctors writing for The Harvard Business Review suggested applying disease control takeaways doctors learned during the Ebola crisis, as current methods (including suggestions to delay pregnancy) are insufficient. To combat Zika, the international community will have to pull together to research the disease, find a way to quickly and effectively test for it, and curb its spread.
Matt McCarthy, an infectious disease specialist at the New York-Presbyterian Hospital, wrote for Reuters on Tuesday: "At times, Zika can feel far away — especially if you live in a place where mosquitos are uncommon. But the ethical questions surrounding the outbreak touch us all." Those are questions people — the medical community, especially — need to be asking, rather than watching a replay of previous health crises that have been badly addressed.