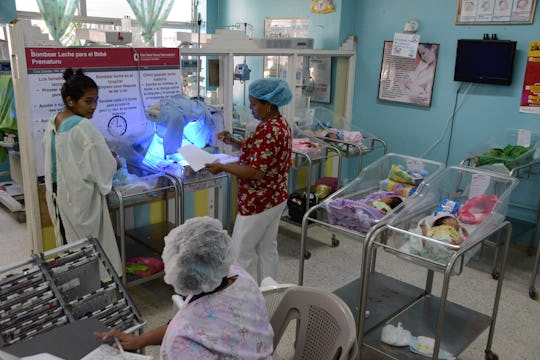 ORLANDO SIERRA/AFP/Getty Images
Zika May Affect Babies Later On After All, According To New Research
It's the disease that just keeps getting worse. While the fight against Zika has taken a positive turn of late, thanks to new congressional funding from the Centers for Disease Control and Prevention, Brazilian doctors are warning that not all damage caused to babies by the virus is visible at birth. In fact, Zika may affect babies later on, including those born without Zika's signature microcephaly, according to ABC.
Pregnant women who live in or have visited Zika-ridden zones have long been warned of the dangers to their fetuses if they contract the the mosquito-transmitted virus. A study in April conclusively linked Zika to microcephaly and other fetal brain defects, and pregnant women who contracted the disease were monitored carefully for signs of smaller skulls in their developing babies. However, if doctors didn't see any signs of abnormal development, the child was generally thought to be in the clear.
Not so, doctors now say. "It is just critical to evaluate the entire child. Even in the child who does not have microcephaly, that doesn't mean no evaluation is needed," Dr. Catherine Spong, acting director of the National Institute of Child Health and Human Development (NICHD), told ABC. The news comes after Brazilian doctors encountered several babies who, at birth, had normally sized heads, but later on showed signs of delayed neurodevelopment.
"Microcephaly is only the tip of the iceberg, only the thing we see when the baby is born," pediatric neurologist Dr. Vanessa Van der Linden said at a National Institutes of Health meeting in Brazil, according to ABC. While Zika-affected children born with microcephaly are usually hit with more severe problems than those without, some of the babies who appeared normal at birth later developed a spate of issues: one had eye problems; another could not move one of his hands; and some developed microcephaly after birth, rather than before.
"I can't say at this moment in time how long do we need to follow these children, because this is new for us," Spong said. "It's just essential to be able to come up with what these answers are, to be able to help women and families know."
In order to get a better grasp on just how long Zika-affected babies need to be monitored after birth before doctors can give parents the all-clear, the NICHD will be studying 10,000 women's babies, starting from their first trimester until the end of their first year. Some will have Zika while others won't, allowing researchers to compare the children's development and health.
This scary new development is definitely unwelcome news for pregnant women across the United States — but the more doctors learn, the better prepared women and parents can be.