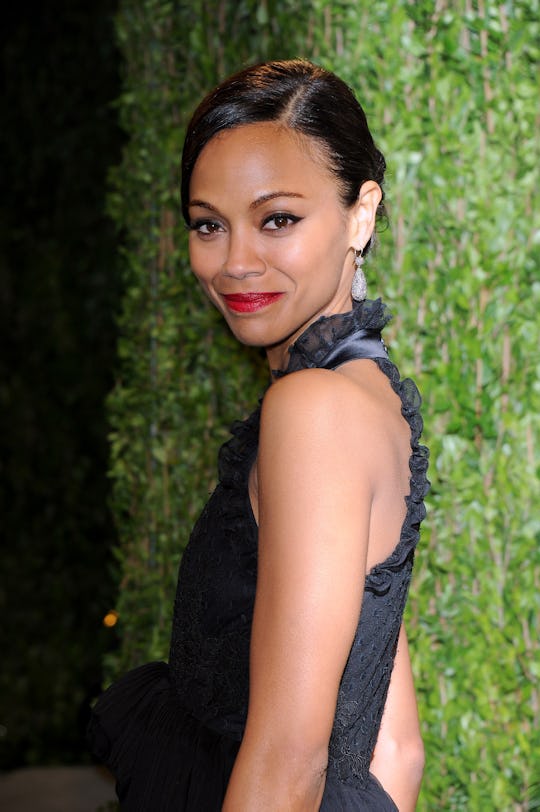 Pascal Le Segretain/Getty Images Entertainment/Getty Images
Zoe Saldana Knows How To End The Vaccine Debate
Zoe Saldana has not been silent about the importance of childhood vaccinations, and now she is saying that for people with considerable resources, it is "our duty" to know and disseminate accurate information about what vaccines really do to and for kids. In an interview with Romper at the Global Moms Relay's Moms+SocialGood, Zoe Saldana stressed that the debate between vaccine advocates and anti-vaxxers is rooted in misinformation, an ignorance something that only hurts our children.
"Our responsibility is to educate ourselves fully," Saldana says to Romper regarding the deafening debate between advocates and anti-vaxxers. According to Saldana, that means seeking "second, third, [and] fourth opinions" on a topic that influences millions of futures.
On a panel presented by United Nations Foundations and Johnson & Johnson, Saldana — alongside Aaron Sherinian of the United Nations Foundation and Dr. Purvi Parikh — spoke about the now "daunting" fear that one of her three children could be affected by a vaccine-preventable disease. "Knowing that so many families out there don't have the ability to provide their children good health care keeps me up at night," the actor says.
The U.N. Foundation's initiative to reach "the fifth child" — a term used to reference the fact that "one in five children around the world does not have access to the life-saving immunizations needed to survive" — is a Shot@Life. The campaign hopes to empower, educate, and encourage Americans to advocate for what it considers "the most cost-effective" solution to saving children's lives in developing countries.
Part of the campaign is to simply educate Americans, which Saldana says we aren't doing in the highly-politicized debate of vaccinations.
"If we are making a wrong decision due to ignorance and misinformation, [our children] are the active recipients to that act of ignorance," Saldana says. "Our children and children across the globe deserve at least [us to educate ourselves]."
Though she doesn't say it, the misinformation that Saldana is most likely referring to is the oft-misrepresented idea that vaccines are linked to ASD, or Autism Spectrum Disorder. Despite studies debunking the theory — in 2011, and again in 2013, the CDC presented evidence proving that vaccines children do not cause ASD — the topic has become a political war zone. President Trump has been accused of "energizing" the anti-vaccine movement, pushing against science, warranting a condemnation by the American Academy of Pediatrics early this year.
"These are diseases that are vaccine preventable, and we're stealing opportunities of children around the world of having a decent shot at life," Saldana says. "It is our duty as people who have access to education and to professionals who can provide their educated assessments of this — it is our duty to inquire before we open our mouths."