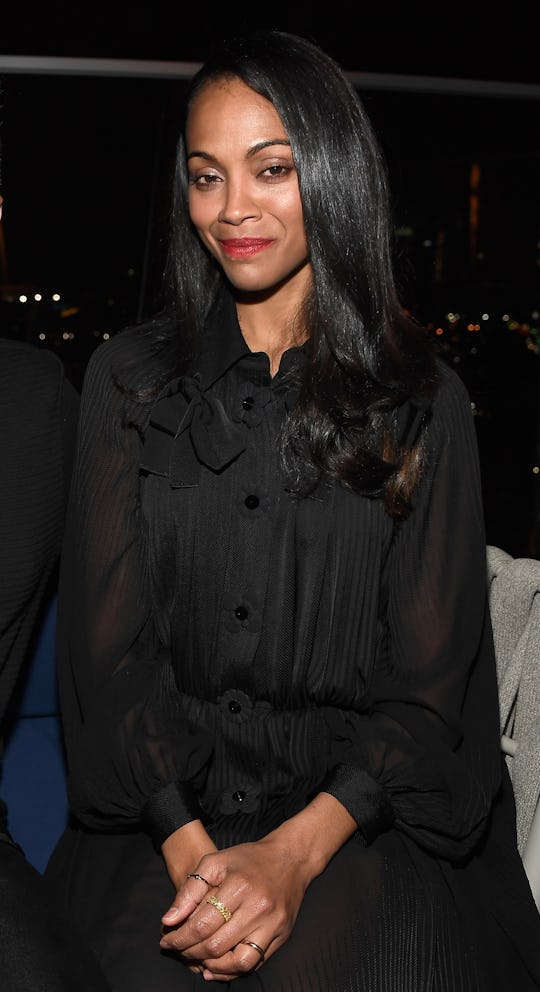 Frazer Harrison/Getty Images Entertainment/Getty Images
Zoë Saldana Welcomes A Baby Boy
Good news for Zoë Saldana and husband Marco Perego! Saldana and her husband have welcomed a third child to their family, and went a very peaceful route when choosing a name for the baby boy. According to People, the newborn's name is Zen. The couple, who have two twin boys already, are very happy to welcome their new son into the family. According to the star's Instagram, the family is feeling very "blessed" with the new bundle of joy.
On Saturday, the mother of now three shared a photo of her two twin boys, Cy and Bowie, on a play mat with their new younger brother. The 2-year-old twins are watching admiringly as their new family member stretches flat on his stomach on the blanket beside them and their many toys. One of them is even showing a little brotherly affection by patting newborn Zen on the head. Looks like they're already getting along — and things look "zen" already! Saldana captioned the photo of her growing family with the following:
"Marco and I are elated to share the news of the the birth of our son Zen. We couldn't feel more blessed with the new addition to our family. #threeboys... oh boy!"
Saldana has had a knack for special names. Cy Aridio and Bowie Ezio are rather unique names, but have special meanings. According to Brit.co, Cy means "sun or throne" and Bowie (an obvious name of a future star) is Gaelic for "blond."
According to Us Weekly, Saldana and Perego were spotted leaving Cedars-Sinai Hospital in Los Angeles on Monday, Feb. 13, with their newborn child. E! Online reports that Saldana was "not recently pregnant, [and] did not give details on whether he was adopted or born via a surrogate." And truthfully, how she had the baby shouldn't really matter unless she chooses to speak out about it!
Regardless of how he came into the world, it is very clear that Saldana and Perego (and their twin sons) are very happy to have Zen in their lives. Can you blame them, though? Everyone needs a little peace and "zen"-like nature in their day-to-day lives. Congratulations to the family on their new member!