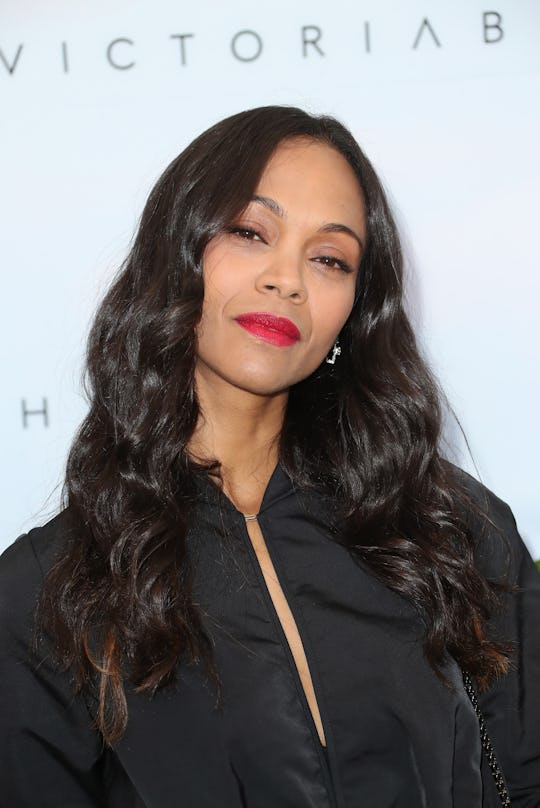 Frederick M. Brown/Getty Images Entertainment/Getty Images
The Clever Way Zoe Saldana Gets Her Kids To Eat Veggies
Zoe Saldana is parenting on a whole different level these days, with a little help from some green body paint. The Guardians of the Galaxy Vol. 2 actress was on Jimmy Kimmel Live! on Monday with the rest of the cast promoting the new, much-anticipated sequel. And she shared a little unique parenting tidbit that's been helping her out like gangbusters. It turns out, Saldana's kids eat their vegetables because they think she's related to the Hulk. Whatever gets them to eat their greens, right?
When Kimmel pointed out that the cast's kids must love seeing their parents playing superheroes on the big screen, Saldana (who is covered in green body paint for her role as Gamora) explained to the late night talk show host that she's discovered an extra benefit to her role — being able to play mind tricks with her kids to make them eat their veggies:
My kids think that I'm related to the Hulk, so I'm using it, and I'm getting them to eat their vegetables. I even go so far as to go behind this wall and I'm like, "I'm going to go call the Hulk because you guys are not eating your veggies and he's going to come and take your toys."
I honestly couldn't like this woman any more than I do right now if I tried. I mean, there has to be a benefit to the four hours she has to sit in a chair getting covered with green paint throughout shooting, right? Beyond all the fame and money and such.
Saldana is the mother of twin 2-year-old boys, Cy and Bowie, and welcomed a third son in February with partner Marco Perego, according to The Huffington Post. She announced little Zen's arrival with an adorable pic on Instagram and the caption:
Marco and I are elated to share the news of the the [sic] birth of our son Zen. We couldn't feel more blessed with the new addition to our family. #threeboys... oh boy!
Being the mother of three boys under three means Saldana has got to be willing to get a little dirty if she wants to get anything done. So when she playfully pranks her kids to eat their veggies by doing this, it's totally understandable:
I go behind this wall, and I'm like GRRRR! And they're like, "No Hulk, no come, no come, Hulk!" And they eat their veggies.
You've got to use whatever is at your disposal, right? So if you happen to be an actress who is painted green and looks like she might be related to The Incredible Hulk... by all means. Proceed.
Guardians of the Galaxy Vol. 2 hits theaters on May 5.