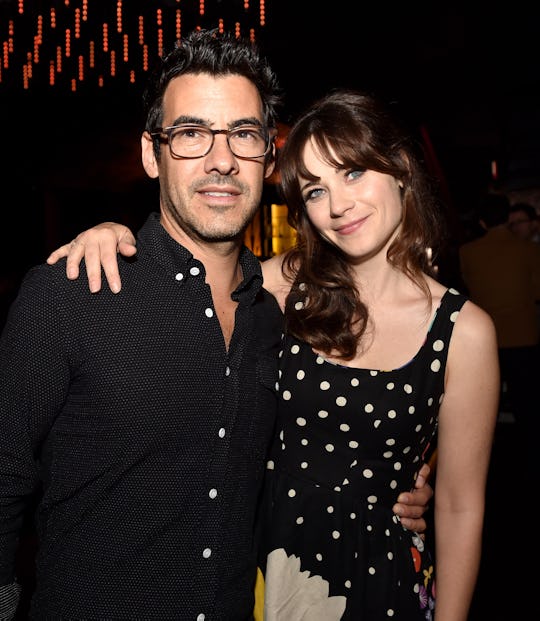 Kevin Winter/Getty Images Entertainment/Getty Images
Another Baby Is On The Way For Zooey Deschanel!
You just don't get much better than Zooey Deschanel, do you? Between the bangs and the sundresses and the eyes and the musical talent... it's like, give me a break already! Except not really. Zooey Deschanel is pregnant with her second baby, and it's probably going to be the cutest thing ever.
According to Us Weekly, Deschanel and husband Jacob Pechenik are expecting again. The New Girl actress and her husband are already parents to 18-month-old daughter Elsie Otter. Deschanel is another one of those crafty celebrities who like to keep secrets from us common folk; In August 2015, for example, she dropped the mic on her fans by announcing a twofer. Not only was she a new mom, but also a new wife to go along with being a New Girl. At the time, the actress' rep told Us Weekly:
I am thrilled to confirm that Zooey Deschanel and her husband, Jacob Pechenik, are new parents to a beautiful healthy baby girl.
It turns out Deschanel and Pechenik, a film producer, had been married in Texas in June. While Deschanel remains pretty private about her home life with her little family, she did open up on Ellen about daughter Elsie's fashion obsession — hats:
She is really special. She's saying some words. She says a lot of words but she's really obsessed with hats right now. My mom wears hats a lot and we had dinner with her and as soon as my mom came out, my daughter said, "Hat! hat!"
While Deschanel must be super excited about being pregnant again, there is one aspect she might not be all that jazzed about; giving up her favorite foods. She spoke with Jimmy Kimmel on Jimmy Kimmel Live! about the trials and tribulations all pregnant women can understand, and the things we want to eat vs. the things we are allowed to eat. And coffee. Let's not forget coffee:
You can't have sushi. You can't have cheese that tastes good. You can have a little bit [of coffee], but I would have, like, four cups a day. And now I can have a half cup, which is a joke! It's a total joke!
It's all worth it in the end, of course. Because Deschanel has another baby to look forward to, a little human to love and raise and dress up in hilarious outfits. Now we just have to wait to find out what sort of human she is going to have, and what sort of name she will give it. Chances are, it will be something quirky/cool/awesome/hilarious.