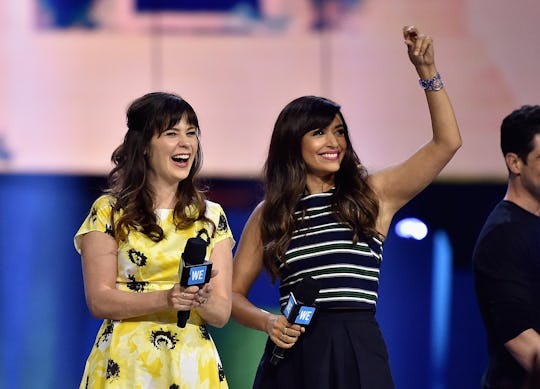 Mike Windle/Getty Images Entertainment/Getty Images
Zooey Deschanel Teaching Hannah Simone This Parenting Hack Is Total #FriendGoals
Zooey Deshanel and Hannah Simone don't just play two besties on TV. The New Girl stars are always friends in real life. In an interview with Us Weekly, Zooey Deschanel said she taught Hannah Simone to change a diaper and do all the other "secret" mom-tasks that no one else teaches you. While attending the Baby2Baby Baby Carnival Presented By Huggies in L.A., the actress opened up about parenting on set. She said that she's excited to bring both Elsie, 2 years old, and Charlie, 4 months old, to work when they start filming Season 7 and having her kids hang out with Simone's newborn.
"I had my daughter with me for her first year and then I'm going to have my son with me this year on set," Deschanel said. She added that the kids will basically be a little Rugrats gang. "They'll be at work with us so they'll coexist together. Charlie is a little bit older so he'll show her baby the ropes," Deschanel said.
Charlie has apparently been helping Simone, too. Deschanel dished, "[Hannah] came over when Charlie was born and I quickly was like, 'Here is a bunch of information that nobody tells you!' I showed her how to change the baby and hold the baby. Nothing like practicing on a real newborn, right?" If only everyone had an IRL tutorial.
Deschanel, 37 years old, also talked about motherhood has changed her outlook on life, which is something else Simone is probably experiencing with her infant son. And no amount of practice can prepare you for the rollercoaster ride of parenting. Deschanel said:
Nothing can really prepare you for it because you never again have a day where you don't think of your kids first. At least for me, that's what I think of first thing. Like, 'How are the kids doing? What do they need?' That's my first thought when I wake up in the morning and go to sleep at night. I'm always thinking of them.
She added, "I've changed completely. You don't realize what a sort of selfish existence you live in until you have kids."
Deschanel also said that she loves her new job as mom:
[Parenthood is] really fun. You're always adjusting because kids go through phases and the phases kind of turnover so quickly that when you introduce a new baby into the mix it's even better. Because what's better than more kids? They are so cute.
They really are. But they're also pretty vulnerable, which is why Deschanel has partnered with Baby2Baby, a Los Angeles based organization that accepts diaper donations and gently used baby products and clothes. At the event this week, Deschanel accepted 3 million diapers from Huggies for the charity.
Deschanel said that she sought Baby2Baby out because of all the good work they do. of her work with the organization. "I was donating diapers and baby gear and clothes to them since my daughter was born. I saw what amazing work they did so I asked if I could be involved. Huggies is donating three million diapers, which is so huge. It's such an amazing gift," she said.
It really is, considering that diapers are so expensive. A family can spend about $600 a year on diapers alone and for lower income families, diaper costs can get in the way of affording other necessities, like food or health care. Organizations that get diapers on the ground to those in need fill that gap. Deschanel said most of what she donated was extra, since babies grow so fast. "They'll grow out of a diaper size," she remarked, so why let the stash you stocked up on go to waste?
Hopefully, Deschanel warned her friend Hannah about that, too, during her mommy and me lessons.