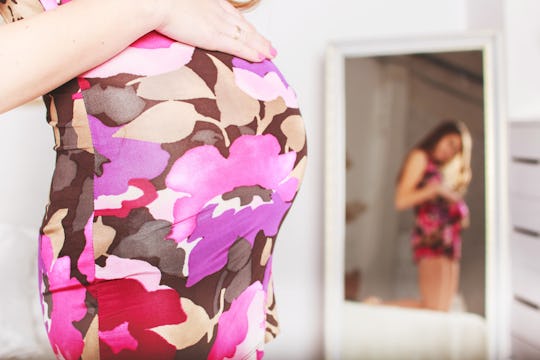 Fotolia
9 Things No One Tells You About Motherhood And Body Image, But I Will
Pregnancy, labor, delivery and the postpartum time period can be incredibly challenging for a woman's body image. The weight gain during pregnancy; the struggle to eat what's best for you and the baby versus the cravings; the exhaustion that leaves you unable to think clearly enough to make meals that are healthy; the unrealistic beauty expectations society holds all women to; all of these things can have an impact on how women feel about their bodies. Of course, there are things no one tells you about your body image and how it evolves, as a mother, too, which only makes maintaining a healthy body image after you've had a baby, all the more difficult.
My body image issues started when I was really young. Even as early as grade six, I would watch videos of myself through a critical lens, wondering how I could have chosen the outfit I had felt so good in that day, or wondering why no one had told me my lip gloss looked ugly, despite my big, genuine smile. Sadly, the challenges have only increased as I've gotten older and have grown two babies inside of me.
When I had my daughter, I swore up and down that I would provide her with the example she needed to see to be a strong, confident, body positive girl and young woman growing up. I was a forced to look inward and, in turn, found myself spending more time being active, happy, not really examining the minutiae of my body's "flaws," but rather simply enjoying life. Before my daughter was born, I had tried to do the same for my stepdaughter, but not having her full-time growing up meant that I was capable of constantly filtering any negative messages she may or may not have heard. In the past year, though, and since my daughter was born I've had to spend every single day reminding myself of the example I need (and want) to show my kids.
However, just because my daughter has given me a reason to be constantly and consistently body positive, doesn't mean body image and body positivity aren't constant struggle for me. It's a battle I'm willing to wage, though, to be happier with myself, and to show my children what it means to truly love your body. If you are new to this battle, here are nine things no one tells you about your body image, but I will: