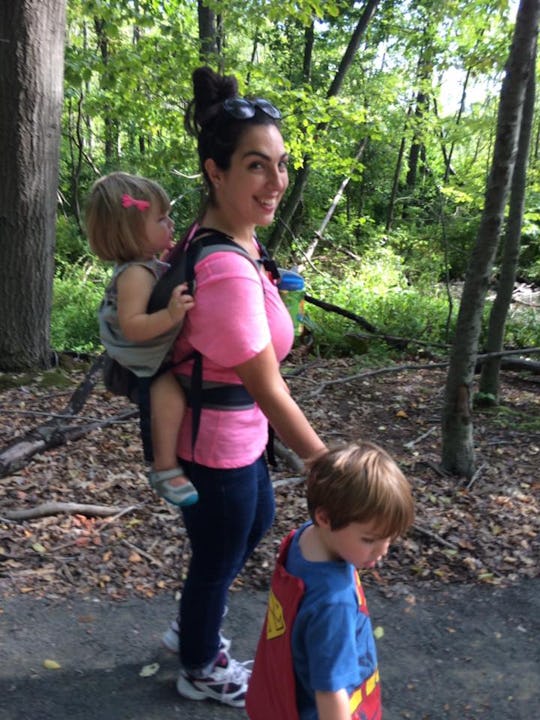 Jamie Kenney
12 Things Body Positive Moms Say About Their Own Bodies That Make A Difference
Words matter. They matter in politics, relationships, and they definitely matter in parenting. Author and publisher Peggy O'Mara once said, "The way we talk to our children becomes their inner voice," and though I'd never thought about it in those terms, I instantly recognized the wisdom in this observation once I became a mother. The truth is, children aren't only listening when we're talking to them; they're also learning a lot by how we talk about and to ourselves. That's why the things body positive moms say make a difference in how their children will come to view their bodies and the way society views all bodies.
As hard as it is to carefully choose the words we use when talking to our children, it is infinitely harder to carefully choose the words we use when talking about ourselves. By the time we're parents, we've most likely internalized decades of creepy, contradictory lessons society has lobbed at us from an endless amount of angels and directions. It's left a lot of us confused, insecure, and feeling less than body positive, to say the least. Personally, whenever I find it difficult to muster positivity about myself or my person, that's when I know it's the most important to find it (to contradict whatever crap I'd been told about my appearance and worthiness) and show my kids that other people's expectations do not define us.
It's not always easy, to be sure, and like any parent I fail from time to time. However, there are some useful mantras I've stumbled across in my overall goal to teach body positivity to my children, that have helped me along. I know my children will hear them amid a million other, better-funded messages about bodies and appearance, but hopefully my repetition will leave an impression.