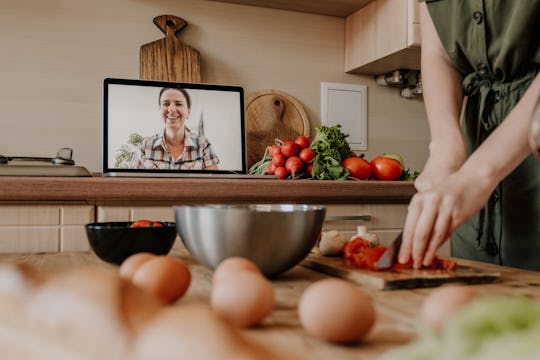 Credit: Konstantin Tsevelev, Getty Images
Make The Most Of Virtual Turkey Time With These Zoom Thanksgiving Dinner Ideas
Spending Thanksgiving surrounded by your loved ones (and insanely good food) is what makes the holiday so special. But with social distancing still strongly encouraged by the Centers for Disease Control, you might have to celebrate separately from the rest of your family this year. You can still keep the connection to your loved ones, though, with these Zoom Thanksgiving dinner ideas that'll make you feel like you're all still together — and having a deliciously good time, too.
"Thanksgiving is always a time to share gratitude and traditions, but this year is sure to stand out no matter how you celebrate," Kimberly Allen and Jennifer Charles, event planners at Something Fabulous, tell Romper in an email. "With the challenges of COVID-19, your feast may be a little more technically involved than the traditional Thanksgiving travel, but with a quick click, Zoom may provide you with more time for bonding even if it's with a screen as the mode of transport."
Like so many of the holidays that have been affected by the Coronavirus, Thanksgiving won't be the same, but that's okay. What matters most is that you gather with your loved ones in any way that you can. So whether it's carving the turkey, fighting over who'll get the wishbone, or who made the best pie, learn how to celebrate Thanksgiving, quarantine-style, with tips that won't make you want to, um, zoom through the meal.