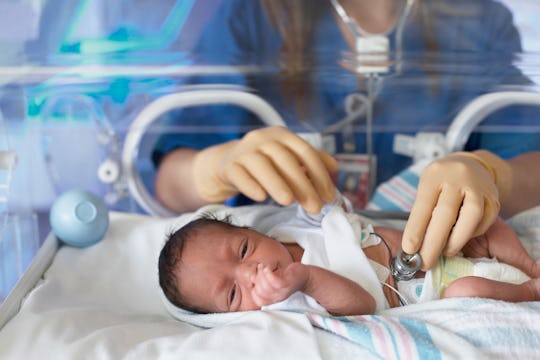 ER Productions Limited/DigitalVision/Getty Images
12 Preemie Support Groups For New Parents, Because You Can't Go It Alone
It really does take a village for preemie parents
Only the parents of a premature baby can understand the emotional toll it takes to care for such a fragile child. That's why finding a community of parents and caretakers who have been through similar circumstances is so important. Fortunately, there are many online resources for parents experiencing the challenge of navigating the NICU and raising a premature baby, from preemie support groups to virtual counseling sessions to even social media accounts.
While each is different, the focus is the same: to provide a space where preemie parents can bring their worries, wins, and concerns to each other and get help and feedback from those going through the same situations. 380,000 babies are born before 37 weeks gestation each year in the U.S. per March of Dimes — that's 1 out of every 10 American babies. That's a lot of babies receiving extensive medical intervention including respiratory support, invasive treatments, and extended Neonatal Intensive Care Unit stays. In many cases, these spaces are like lifelines for parents who are afraid of not only the unknown, but the known as well.
Rather than shoulder that burden alone, preemie support groups offer all kinds of resources from chat rooms to virtual mentors, podcasts to classes. It's the kind of care one won't often find in a clinic or hospital — ongoing assistance a preemie parent can turn to whether a child is 3 weeks or 3 years old.
For families looking for someone to listen or a place to gather strength, these organizations are here to help. All families need to do is ask.