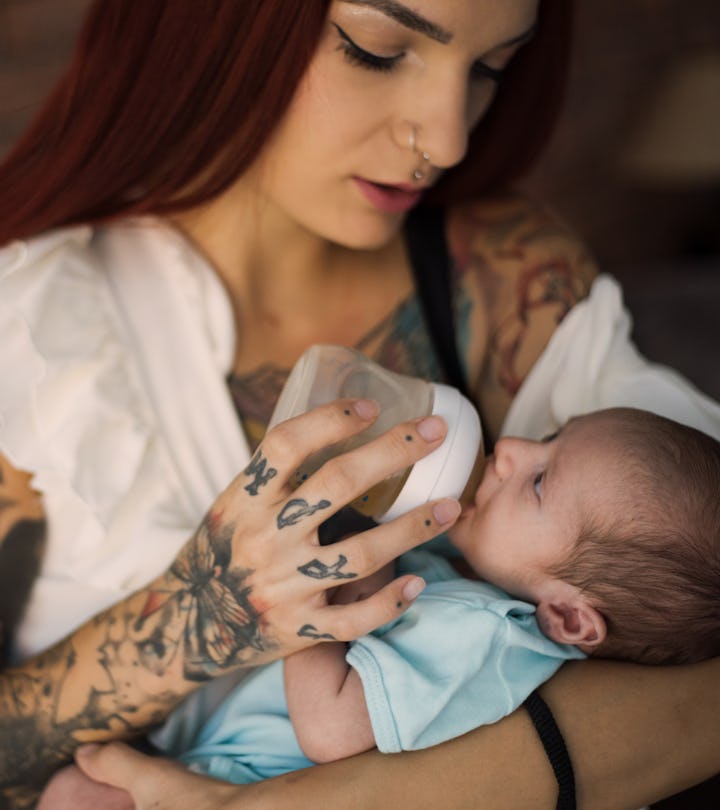 milorad kravic/E+/Getty Images
5 Signs Your Breast Milk Has Gone Bad
And how to prevent it from ever spoiling again.
There's nothing worse than spending so much time pumping your breast milk only to find out that it's gone bad sooner than you expected. Luckily, it's not hard to determine if your milk has gone bad, and knowing the signs can save you from the pain of having to pump your milk just to dump it a few days later. After all, the stuff is called liquid gold for a reason — no mom wants to have to throw out even one solitary drop of her hard-won milk.
Not unlike cow's milk, breast milk will spoil if left out in the open, or even in the refrigerator for longer than it should be, according to guidelines from The Centers for Disease Control and Prevention (CDC). "For full-term healthy infants, the recommendation is no longer than four hours at room temperature for freshly expressed breastmilk and one to two hours for thawed breast milk," Molly Petersen, a Certified Lactation Counselor (CLC) at Lansinoh tells Romper.
This timing changes, however, once the milk has been stored in the fridge or freezer after pumping. Lactation consultant and Motif Medical Lactation Director, Ashley Georgakopoulos, tells Romper that pumped breast milk lasts about four days in the refrigerator. Additionally, Georgakopoulos notes that breast milk can be "frozen up to four months in a regular freezer, or up to 12 months in a deep freezer." After you remove it from the freezer, the timing changes once again. "Once it has thawed and all the ice crystals have been melted, it needs to be used within 24 hours before being discarded, and refrigerated in between use, as it only can stay out at room temperature up to two hours," she tells Romper. Knowing how long breast milk can stay in the fridge is a huge part of making sure your stash doesn't spoil.
Following these recommendations is the easiest way to make sure that your milk doesn't spoil. But, if you lose track of time (which happens often as a new mom), there are a few ways to tell whether or not your breast milk is spoiled.
Experts:
Ashley Georgakopoulos, Motif Medical Lactation Director & IBCLC
Molly Petersen, Certified Lactation Counselor (CLC) at Lansinoh
This article was originally published on