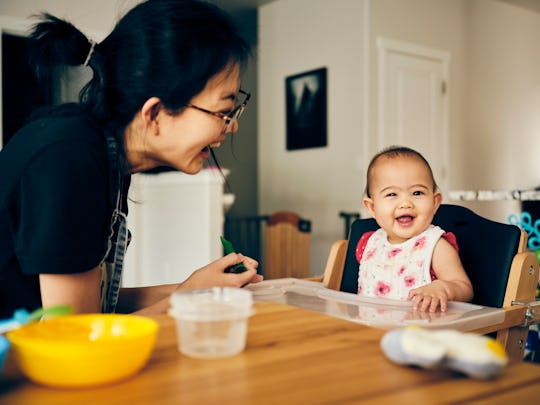 RichLegg/E+/Getty Images
These Are The 6 Best Foods To Give A Constipated Baby
The right foods can get things moving smoothly again.
No one likes a leaky diaper, but the alternative — constipation — isn't a good option, either. And while seeing your baby making that face while they're pushing (and hearing them grunting) might be kind of funny, it's no laughing matter when your little stinker can't poop. Fortunately, there are foods to give to a constipated baby, to keep things, um, moving.
Pooping shouldn't be painful, but when your baby is plugged up, you'll need to help them so that they stop straining. "When it comes to treating constipation, I always tell my clients to make sure they are getting in the 3 Fs daily: fluid, fat, and fiber," Erin Palinski-Wade, RD, CDE, a registered dietitian, tells Romper in an email. "If a baby is lacking even one of these, it can be hard to resolve constipation."
And just as you should look for foods that can help your baby have a bowel movement, you should also understand which foods can cause constipation, too. Bananas, rice, and even some dairy can be binding, according to Palinski-Wade. In most instances, your baby's tummy troubles "should resolve within 1-3 days, but you should always discuss constipation with your child's pediatrician to determine the right treatment plan for their individual needs," she says.
Here are some foods to help get your baby's digestion running smoothly,.
While constipation typically resolves on its own, seeing your child struggle can be uncomfortable — for the both of you. Try to serve up healthy, high-fiber foods and dietary fats, and keep your baby hydrated, too.
Experts:
Erin Palinski-Wade, RD, CDE, a registered dietitian and founder of Healthy Mom Happy Family
Kara Hoerr, MS, RDN, CD, a registered dietitian