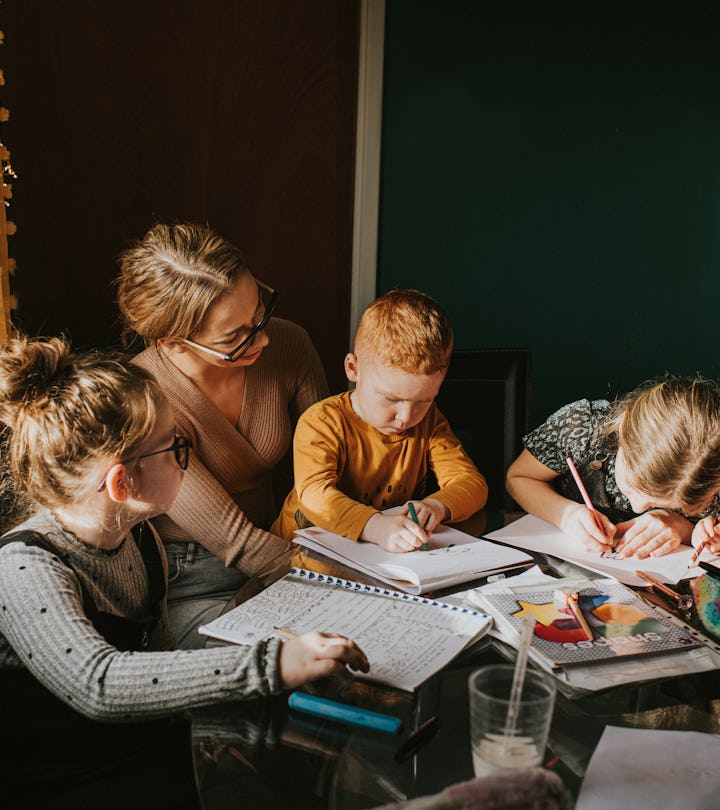 Catherine Falls Commercial/Moment/Getty Images
How To Build An After-School Routine That Works For Your Family
Hint: An after-school snack is never a bad idea.
When my oldest son started kindergarten, I was clueless about how to structure his after-school routine. Did he need to eat a snack immediately? Did he need to focus on homework or play? Should I limit screen time after school? We needed a routine, but I had no idea where to start. I ultimately put a call-out on social media begging for my experienced friends to weigh in.
Any after-school routine should really be based around the needs of the individual child, says child psychologist Maureen Healy, and all kids need time to decompress after school. "The goal is to build that 'downtime' into the day," Healy says, noting that kids need to "rest, relax, and recharge after a full day of school."
Every kid is different and as they change and grow, their after-school routine may change as well. For example, elementary kids will still want time to play, while middle school and high school students may need to factor in school sports practices or part-time jobs later on.
After-school routine templates
These basic after-school routine templates below can help you put together the routine that works best for you and your family. They might look different day-to-day, so don't be stressed if your routine is ever thrown off — because it will likely happen — but knowing generally what to expect is good for both parents and kids.
Preschool & kindergarten after-school routines:
Snack
Nap or rest
Free play (indoors or out)
Family walk
Elementary school after-school routines:
Snack
Homework
Free play (indoors or out)
Chores
Extracurricular activities
Middle school after-school routines:
Snack
Homework
Rest/quiet time (with or without screens)
Chores
Extracurricular activities
High school after-school routines:
Snack
Clubs, activities, part-time job
Homework
Chores
Rest/quiet time
Whether you're home with your child after school or they're in the care of someone else, you can still find a way to make their routine work for them. Let the tips below guide you as you flesh out the details of your afternoon.
Whatever after-school routine you create with your children, the key is figuring out what's comfortable for you and your kids. Every family's routine will look a little different, and that's totally OK.
Studies cited:
Merkel DL. Youth sport: positive and negative impact on young athletes. Open Access Journal of Sports Medicine. May 31, 2013. https://www.ncbi.nlm.nih.gov/pmc/articles/instance/3871410/
Sources interviewed:
Maureen Healy, child psychologist, author of The Emotionally Healthy Child
Angie Weiss, nutrition services director, Wichita Falls Area Food Bank
This article was originally published on