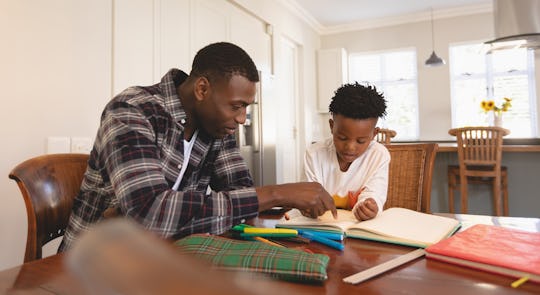 Shutterstock
How To Build An After-School Routine That Works For Your Family
Hint: An after-school snack is never a bad idea.
When my oldest son started kindergarten, I was clueless about how to structure his after-school routine. Did he need to eat a snack immediately? Did he need to focus on homework or play? We needed a routine, but I had no idea where to start. I ultimately put a call-out on social media begging for my experienced friends to weigh in.
Child psychologist Maureen Healy tells Romper that an after-school routine should really be based around the needs of the individual child. "Boys and girls need time to decompress after school, which may look different for every child. The goal is to build that 'downtime' into the day so your son or daughter can rest, relax, and recharge after a full day of school," Healy says.
In time, my son and I found our own groove for his after-school routine, but we do tweak things here and there as needed. Now that he's starting fourth grade and my youngest is in second grade, we'll probably adjust things once again this year. Every kid is different and as they change and grow, their after-school routine may change as well.
Using these after-school routine ideas can help kickstart that decompression for your kid as soon as you leave the pick-up line, and help you put together the routine that works best for you and your family. Which means that whether you're home with your child after school or they're in the care of someone else, you can still find a way to make their routine work for them.
Experts:
Maureen Healy, child psychologist, author of The Emotionally Healthy Child, and parenting coach at Growinghappykids.com
Angie Weiss, nutrition services director, Wichita Falls Area Food Bank
This article was originally published on