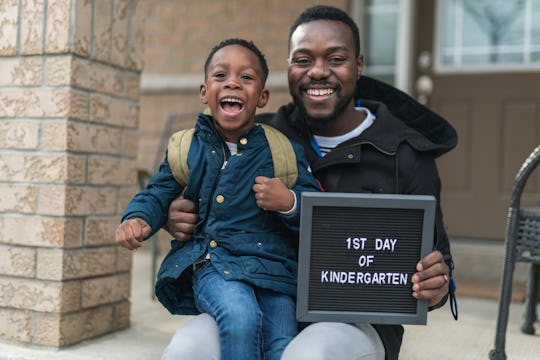 Fly View Productions/E+/Getty Images
12 Families Share Their Funny, Sweet, & Silly Back-To-School Traditions
These special touches and family rituals make the first day of school so much more memorable.
From the little extras, like adorable school supplies and cartoon-character backpacks, to the big things (don't forget to pack that yummy lunch!), thoughtful gestures can make the back-to-school transition so much easier for your family — not to mention, way more fun! Documenting the day makes it all the sweeter, too, whether you dress up your front lawn with signs and balloons for a photo shoot, or just take an extra 30 seconds to snap a selfie with your kiddo before the bus rolls up.
If you're looking for new ways to make the moment a little more special this year, or want to ensure it doesn't get lost in the memory bank, take a look inside the lives of these 12 families. They share some personal rituals, international traditions, and unique details to help crystallize the day. Some of these parents are childhood educators themselves, and made first-day-of-school traditions with classrooms full of children for decades. (A school-supply scavenger hunt? Hand over the sign-up sheet!) There's no shortage of idea gems here to help all your family members make the most of this gone-in-a-flash milestone. Now prep that scrapbook and clear some storage space on your smartphone: It's time to make some memories.
(Your kids might balk as they get older, but they'll treasure these sweet moments.)