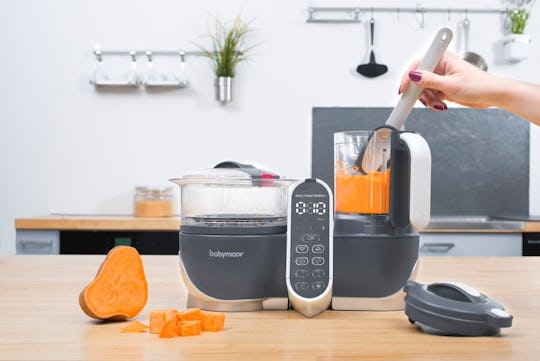 Amazon
The Best Food Processors For Baby Food In 2020
We only recommend products we love and that we think you will, too. We may receive a portion of sales from products purchased from this article, which was written by our Commerce team.
Embarking on the process of making your own baby food is a commendable one, but it can be time-consuming and without the right machine, you might end up throwing in the towel before you even get to fill your first jar. That's where the best food processors for baby food come in. These compact machines will make the process much more efficient by steaming and pureeing small batches of food in one unit. That said, for a more budget-friendly option, a basic mini food processor will still be able to puree but you'll have to do some prep work before loading it up.
Dedicated Baby Food Maker Vs. Mini Food Processor
The first thing to consider when you start shopping is the level of convenience you need. To get the most premium features, you'll need to invest more, but it may be worth it when you consider what you're getting back: time. The all-in-one machines make it extra simple for you from the start — even the buttons are uncomplicated. Just add water, throw your ingredients in, press the proper setting, and you will have freshly steamed and pureed food ready to go. Even better? Some models can also defrost food and/or warm and sterilize bottles.
Of course, a mini food processor can still offer plenty of benefits. Without the need for a water reservoir, these models, which are like small choppers, have a much smaller footprint and therefore easier to store and bring out as needed. With a pulse function, you can still control the consistency of your ingredients, however, depending on what stage your baby is in, you may need to pre-cook foods and blades may not be as sharp enough to handle meats or other tough fruits.
How Much Food Will It Make?
The other spec to pay attention to is capacity. The average machine in this category can handle around 3 to 4 cups, which will be able to provide the recommended daily amount of solids for infants (and offer some for leftovers), however, if part of the appeal of homemade baby food is so you can stock up your freezer, a more generously sized model will be more your speed. Just note that storing baby food comes with its own set of guidelines, and it will be helpful to have your containers ready to go.
Below, you'll find a list of the best baby food makers to get you started. I've also included a manual food mill because you may also want a fast option to take on-the-go.