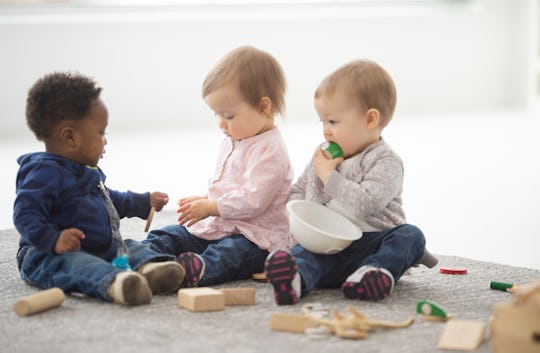 FatCamera/E+/Getty Images
Introduce Your Baby To Montessori With These Fun Learning Toys
It's all about textures, natural sounds, and exploration.
In their first 12 months of life, babies develop at a rapid pace, and toys can have the potential to really aid in that development. Montessori toys for babies are especially good for this because their entire purpose is to encourage curiosity and exploration without being overstimulating. Even though their designs are typically simple, they are definitely not lacking in educational value.
The basic designs of Montessori toys often allow babies an opportunity to find a variety of ways to use them through open-ended play. A great example of this is the Pikler triangle, a toy Jackie Horton, a Montessori and early education teacher, loves. "It offers a safe space for your child to explore their limbs and learn how to trust their bodies," she tells Romper in an interview, "They learn their boundaries, strengthen their muscles, and have a designated space to explore their urge to crawl and climb."
Montessori toys also encourage independence, Horton explains. Some of her favorites for babies include blocks, simple puzzles, and activities that let them explore independently, like pouring water. "Anything that allows a child to attempt these things with little guidance is sure to be a great Montessori activity," she says. For more ideas, check out these amazing toys.
We only include products that have been independently selected by Romper's editorial team. However, we may receive a portion of sales if you purchase a product through a link in this article.
Expert:
Jackie Horton, Early Education & Montessori Teacher