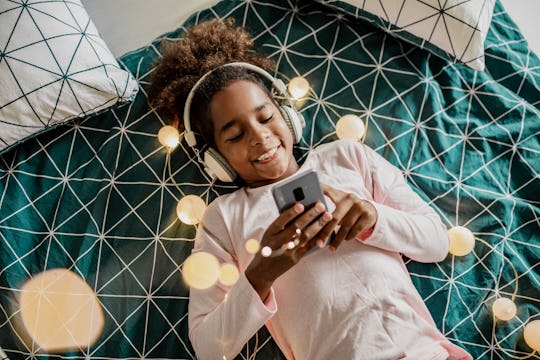 Milko/E+/Getty Images
10 Best Sleep Apps To Help Kids Wind Down & Doze Off
Send your kids to Dreamland with soothing meditations, bedtime stories, and calming background noise.
It's definitely bedtime, but your kid is running laps around the house and giggling nonstop. How do you get this amped-up child to finally settle in for the night? The best sleep apps for kids are designed to help children calm down, relax, and hopefully doze off in no time.
Apps that support healthy sleep habits are super-popular, and there's no shortage of soothing white noise, meditation, and storytelling apps to help adults get into the right frame of mind for sleep. But calming nighttime routines are often essential for kid's sleep patterns, too, because they help establish healthy sleep hygiene habits early on. And these apps, which include meditations, bedtime stories, and soothing sounds just for children, can help kids learn how to self-soothe and wind down for the night. Although nothing can replace the joy of reading books to your children and telling them bedtime stories, these sleep apps can step in after you're already through the third rendition of Olivia for the evening, and if all goes according to plan, they'll doze off before they can summon you back into their room for the fifth time that night. Check out these (mostly free) sleep apps for kids to help everybody in the household have a good night.
Like adults, children can have a hard time falling asleep too. These kid-friendly apps are designed to calm your child before bed so that they can hopefully drift off without having to count too many, if any, sheep.