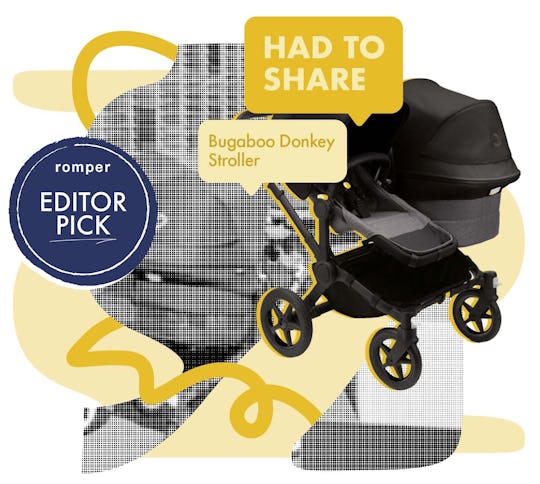 It Took Having Three Kids, But I Finally Found The Perfect Stroller
The Bugaboo Donkey is worth every penny.
Had To Share
We may receive a portion of sales if you purchase a product through a link in this article.
There is some baby gear that you can't just register for — you need to actively use it to see if it's the one. While just about any crib mattress will do and baby monitors are only as good as their apps, a stroller is a personal choice. You need one that's easy to push, one that you can fold up on your own in a Target parking lot, one with adequate storage (because even if you live in the 'burbs, you know you're gonna need to stuff something in that basket). And hitting all those marks is hard enough, but if you plan on having more than one baby, you also want a stroller that will grow along with your family and will last through the absolute abuse families put on baby gear. Because no matter how easy a stroller is to fold, there will be one rainy day at the park where you scream "OH MY GOD" as you shove the canopy down and slam the trunk door on the wheels, begging it to shut already.
And friends, as a mom of three who's tried many a stroller, I'm here to tell you: the stroller you want is the Bugaboo Donkey. (Isn't it fun to say?)
Stats
Price: $1,499.00
Sizes: Mono (single stroller), duo (seat and bassinet combo), and twin (two bassinets/seats).
Colors: Black and gray stroller body with sun canopy options in red, pink, green, blue, gray, black, and white.
Who it's for: Parents of single babies or multiples, and parents with a baby and toddler.
When to use: Literally whenever you need a stroller.
Pro-tip: The mono stroller can turn into a duo, so if you're not sure about another baby yet, just get the mono and you can add the extra seat later.
The specs
OK, let's talk about the details here. Strollers are not usually a one-size-fits-all kind of thing, but I truly think the Bugaboo Donkey might be.
For starters, it's incredibly adaptable. Whether you need a single stroller or a double stroller, you can create the best travel system for your family. Each Bugaboo comes with both a bassinet and a seat, so as your baby grows, they can move up from the bassinet to a big kid seat that can face either the person pushing the stroller or out front. My baby was in the bassinet until she was about 8 months old and, honestly, she probably could still fit, but we switched to the seat.
And I know, the bassinet is great because it lies flat and lets baby get plenty of rest, right? Here's the fun thing: the seat also lies flat and you can either make the leg section of the seat sit up so your child's knees are bent, or you can just unbuckle it and lay it flat, too.
That's the thing — every piece you need to move or undo on the Bugaboo is super easy. And if you buy a mono stroller and decide later that you actually need a double, all you need is the extension kit and a new seat or bassinet and wham bam: you have a double stroller. A double stroller, I must share, that still fits through every door I've ever tried to go through. It's easily the best stroller for having an infant and toddler, or for twins.
That's my enormous Pottery Barn diaper bag in the storage basket to the right.
Look how snug baby is in there! With plenty of room, well shaded, but still easy to see!
Another way to show you all of the storage options — after a day at the splash pad, I had towels inside that zippered storage bag to the right, plus essentials.
When baby's ready for the big seat, it's super easy to pop it in and take the bassinet out. Also, this can go totally flat for naps, too.
The rain poncho is so easy to use and keeps baby totally dry.
The storage
Now let's talk storage: this stroller is amazing. Not only is there an under-the-seat basket that can easily hold items, but there's a whole second storage section that clips next to the seat. Huge game changer. Even better? It can be easily removed to make the stroller more narrow or to add a second seat. And here's the actual best detail: that second storage compartment expands and actually zips up. I throw everything in there: snacks, swimsuits, towels, water bottles, cell phones, whatever will fit. And then I zip it up and can still put my diaper bag on top of it so everything's within reach.
I've also folded up a lot of strollers in my time and have stopped before to help a struggling parent in a parking lot as they slap a stroller into the pavement over and over trying to get it to fold up. The Bugaboo Donkey folds up so easily. You just clip back the seat, squeeze the sides, and down it all goes. It is still bulky when folded, so that's something to be mindful of, but I do think it could fit in smaller trunks.
The features
The Bugaboo Donkey stroller has some seriously helpful design features, like the handle bar that extends, which is super nice if you're in a restaurant and need to make the stroller's footprint a little bit smaller and less in-the-way. You can add on things like sun canopies in different colors (which fold all the way down and also have a zippered section so you can see your baby through the clear window). There's an incredible rain poncho that works like a dream. The cup holder is my favorite: it can be twisted all around and has some kind of mechanism that sort of squeezes the cup in and holds it tight. I don't know how it works, but it's magic.
What else can I tell you? Oh, maybe that this thing will literally do a figure-8? Seriously, I take this stroller everywhere and can push it, hold onto the handlebar with one hand, and literally whip it all the way around like a figure skater on ice to get it through a door or a tight spot. There are two locks on the front of each of the two front wheels, and if you make sure those are clipped up, the wheels can swivel to their heart's content. You could literally take this stroller on Dancing with the Stars as your partner and come home with the mirror ball trophy.
The maintenance
Literally no maintenance so far. I've been able to keep this thing pretty clean by wiping it down and vacuuming the teething biscuit crumbs out of the seat, but it's a total champ. Anytime something has seemed off, like the sun canopy not unfolding like it should, I can easily push it back into place. And all of the pieces of the stroller, from the basket on the side to the lap bar that goes across, are totally user-friendly and easy to take off and put back on.
Pros & cons
Pros:
Rolls like a dreeeeam.
Grows with the family, so even if you aren't sure about additional children yet, just know that your stroller will adapt.
If you do have two kids riding, they can sit next to each other on the same level instead of one up higher than the other or one down below. It makes for very sweet sibling bonding.
There are several accessories to go with it, including a wheeled board for big kids who need a walking break or if your toddler suddenly decides they'd like out of the stroller asap.
Cons:
It is large! It folds up easily, but if you have a car instead of an SUV or van, you'll definitely want to make sure your trunk is clear in order to pop this in.
It may not be great for folks who live in cities or smaller spaces, since it's bulky even when folded up.
It's a pricey stroller, but again, it grows with you.
The TL;DR
I love this stroller so much. I've had three children and felt like I finally got the perfect stroller with the third. During my maternity leave, it was amazing to have with the bassinet so I could still take my big girls on adventures while the baby snoozed. The storage might be my favorite part, just because it allows you to throw everything in and zip. it. UP. Seriously, you don't even need a diaper bag with that function, just throw everything into the storage compartment and head out.
This stroller goes everywhere with us. At my oldest's school, the principal calls it "the limousine." So trust me: it's worth it.
Had To Share highlights the products and finds that Romper editors and contributors love so much, we just had to share in the group chat.