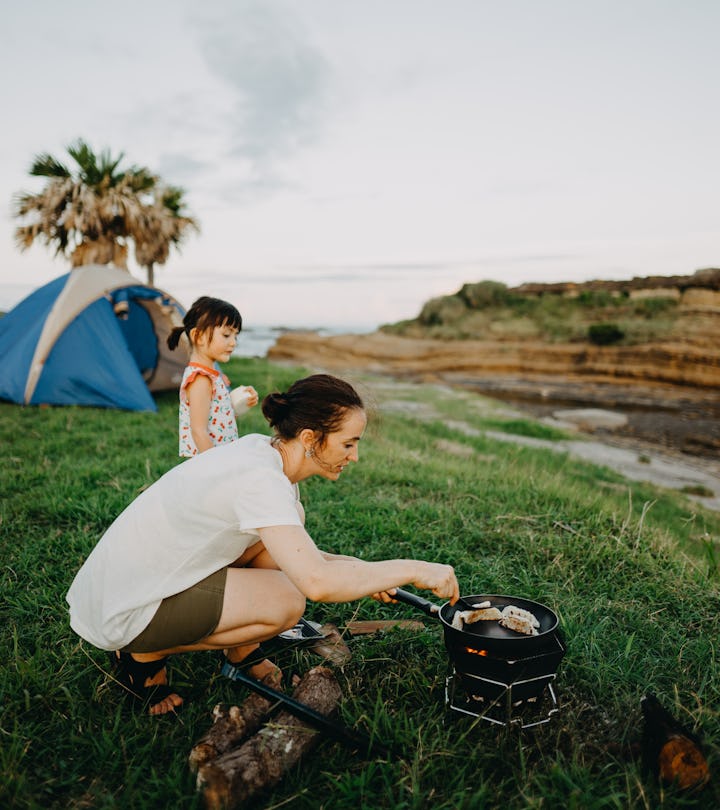 Ippei Naoi/Getty
Tiny Potties, Single-Serve Snacks, & More Tips For Camping With Kids
From picking a campsite to packing tips, here's how to enjoy the great outdoors with kids.
I am admittedly not great at camping. The bugs, the lack of air conditioning, and the sleeping on the ground just aren't my cup of tea, but my kids love it. However, I am great at being prepared, which camping trips most certainly require. And having a stack of camping tips in your back pocket can help you prepare for anything your next trip throws your way and ensure you make the most of your time in the great outdoors. (Even if your kids enjoy it more than you do.)
Camping isn't just fun for kids, it's actually good for them. Between all of the tent-pitching, hiking, fishing, and campfire cooking, kids can learn resilience, gain self-confidence, and develop a sense of community. Not to mention, the fact that the memories you'll make as a family will last a lifetime. Enjoying a camping trip with the whole family may even inspire your kids to carry on the tradition with their own little ones someday.
Whether you've never ventured out as a family before or you're all seasoned camping pros, these camping tips for families cover all the bases. From how to find the perfect spot to set up camp to what activities will keep your bored kids entertained during a rainstorm, there's a hack here you can use. Now, go roast some marshmallows.
We only include products that have been independently selected by Romper's editorial team. However, we may receive a portion of sales if you purchase a product through a link in this article.