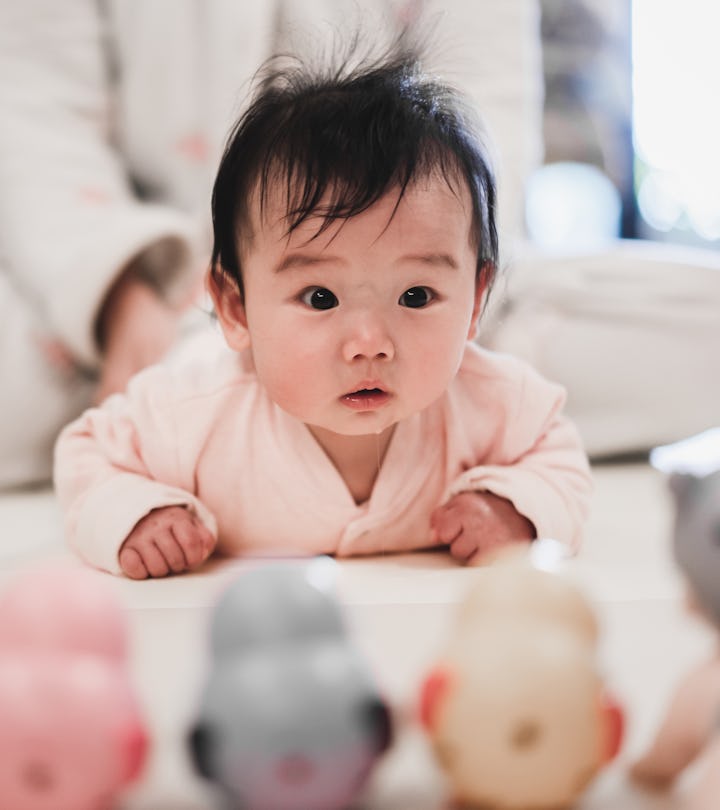 Joey Luo/Moment/Getty Images
15 Expert-Recommended Sensory Activities For Babies
Bonus: they're super easy, and you probably have everything you need already.
For babies, every milestone and "first" counts. And as parents, we are there to snap the photos of their squishy faces eating the lemon, video those first wobbly steps, or giggle with them as they splash their hands in the bubble mix. While these moments are cute, they serve a bigger purpose for their sensory development. Yes, even the bubbles! There are certain sensory activities for babies that experts recommend to help with meeting developmental milestones, and they're easy enough for you to do at home.
"Sensory play is a natural way for infants and younger children to explore their environment by using all or some senses, such as sight, hearing, smell, touch, and taste. As they explore the world around them, children are indirectly contributing to their developmental progress," Fadiyla Dopwell Louis-Obike, MD, developmental-behavioral pediatrician, tells Romper.
A child's most significant development happens from birth to the age of 5, according to the CDC. When babies aren't stimulated, parts of their development can be stifled. Obike says, "As a child navigates and explores his/her surrounding world during the critical period of brain development, he/she is often making progress across each developmental domain."
Sensory play is a fun DIY that you can start with your baby today, and it's as easy as talking to them to help develop their language skills. Most of your activities can be made with simple products you already have in your pantry and others you can buy. Whichever route you choose, your baby won't know the difference. The best part is they are having fun, and you are helping them grow!
Here are several sensory play activities that experts recommend to get your baby's senses tingling.
Experts:
Fadiyla Dopwell Louis-Obike, MD, developmental-behavioral pediatrician