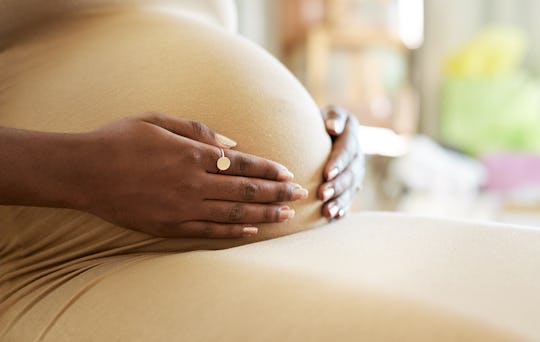 PeopleImages/E+/Getty Images
Turns Out, You Can Dilate Pretty Far Before You Actually Go Into Labor
At some point in the third trimester, Braxton-Hicks gives way to the real deal — contractions, of course. Mine came in the middle of the night, super-villain style. When I told my OB-GYN, she checked me out and announced that I was 3 centimeters dilated. Surely I'd go into labor any day now, right? If you're feeling the midnight pains, or if your doctor's given you a report like mine, you might wonder, how far can you dilate without going into labor?
How Far Can You Dilate Without Giving Birth?
"We consider advanced dilation to be about 4 to 5 centimeters," writes Megan Schmitt, MD, a Park Nicollet OB-GYN who delivers at Methodist Hospital Family Birth Center in St. Louis Park, Minnesota, in an email with Romper. She continues:
"So there are some women, who are typically moms who have had babies before, that are not in labor and walking around with a cervix of 4 to 5 centimeters. But typically after that range, labor starts."
Considering you've got 10 centimeters to cover before you're ready to push, 4 or 5 means you've come a long way, baby. It also means that you can be shopping at Safeway with a super open cervix.
What Causes Advanced Dilation Before Labor?
Women who dilate most before labor begins tend to be multiparous: doctor speak for women with multiple kids. The body doesn't forget a thing like childbirth, and the cervix loses some of its rigidity after you give birth once. According to Parents, second-time moms feel their babies kick sooner, sport their bumps a month earlier, dilate more quickly, and experience shorter labors. (They've earned it.)
"We consider fully dilated to be 8 to 10 centimeters, and at that range I've never seen a woman that does not also have contractions," writes Schmitt. "But if a mom is 4 to 5 centimeters, and is also having contractions, we will keep her in the hospital and can augment labor to get her to 6 to 7 centimeters. Once a mom is 6 to 10 centimeters, she is technically in labor."
As a first-time mom, my 3 centimeters didn't mean a whole lot, and those super-villainous contractions? They were just the trailer. The movie itself didn't start for two more weeks, and it was way more intense than advertised.
What Does Dilation Before Labor Mean?
Moral of the story: every woman is different. Some cervixes remain tight as a fist until the big day. Others open early (especially if it's not their first time at the rodeo). You can walk around with dilation of 4 or even 5 centimeters, but without regular contractions, you're not in labor. But don't worry. Whether you dilate a little, a lot, or not at all, baby's on their way.
Experts:
Megan Schmitt, MD, a Park Nicollet OB-GYN who delivers at Methodist Hospital Family Birth Center in St. Louis Park, Minnesota
This article was originally published on