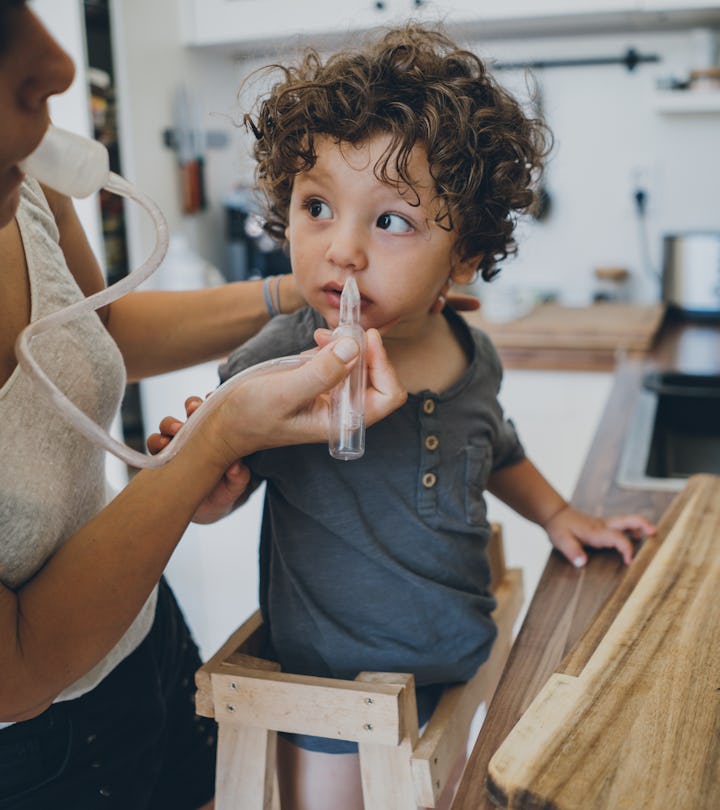 filadendron/E+/Getty Images
Experts Say These 5 Homeopathic Remedies Will Clear Your Baby's Stuffy Nose
The chicken soup thing is more than just a myth.
If you have a baby or toddler, one thing you can pretty much count on is that they're going to have a cold or a stuffy nose at some point this winter. This year, when your little one starts sniffling, you might want to try these homeopathic remedies for baby's stuffy nose, especially since babies can't take cold medication.
"We don't recommend any cough and cold preparations for children under 4 years old," pediatrician Dr. Randy Thornton, M.D., tells Romper. In addition to being dangerous for young children, the American Academy of Pediatrics notes that "cold and cough products that are taken by mouth don't work in children younger than 6 years and can have potentially serious side effects." But when your baby has a cold or a stuffed-up nose (and is crying and not sleeping well as a result), you're going to want to do something to help.
"Homeopathics, by definition, are products that do not contain significant amounts of active ingredients. There is little concern in trying these products, but they are typically not worth the cost," pediatrician Dr. Natasha Burgert, M.D., FAAP, tells Romper. So while you can probably skip the fancy sprays and natural syrups, the good news is that there are other homeopathic remedies that you likely already have in your house. From chicken soup to the good old NoseFrida, check out these homeopathic remedies which can help your tot breathe a little easier during cold season.
It's always the actual worst to have a sick child, especially when they're too young for cold and cough medicine. But you don't have to watch to your little one suffer (or let your own sleep suffer) just because they have a stuffy nose. There are plenty of homeopathic remedies that really will ease congestion, and most of them don't even require a trip to the drugstore.
Experts:
Dr. Natasha Burgert, M.D., FAAP, pediatrician in Overland Park, KS who writes at KCKidsDoc.com
Dr. Randy Thornton, M.D., pediatrician at Wolfson Children's Hospital