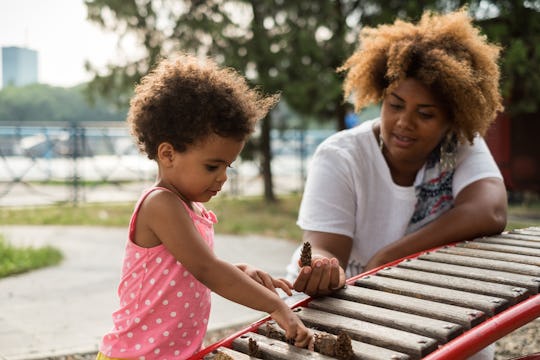 ALEKSANDRA JANKOVIC/Stocksy
How To Fit Your Child For Their Own Pair Of Rose-Colored Glasses
And in turn, make yourself a more positive person, too.
Listen, life isn't all rainbows and sunshine. We all know that. And if the past few months have taught us anything, it's that optimism is needed more than ever. But it can be hard to put on a brave face for your family when you're stressed out, too. Even if you're having ups and downs of your own, though, it's important to know how to raise optimistic kids, because we could all use some positivity right now.
"Optimism is much more about resiliency, overcoming struggles, and being able to hold a feeling of frustration, anger, disappointment or sadness," Dr. Deepika Chopra, PsyD, a clinical psychologist tells Romper in an email. "At the very same time, it means holding space for hope that something better will come, which is so important especially now." The Centers for Disease Control and Prevention report that 3.2% of children ages 3 to 17 have been diagnosed with depression — which equals about 1.9 million children. (Of that, boys ages 2 to 8 were more likely than girls to suffer from a developmental, behavioral, or mental disorder.) And while you're not responsible for making sure your child is happy every second of every hour of every day, as a parent, you do need to equip your child with the tools and strategies (and in some cases, outside help) to ensure that they can look at life in a more optimistic way.
So if you're looking for ways to have a more cheerful child, these tips can help your kiddo have a glass-half-full attitude.
Experts:
Dr. Deepika Chopra, PsyD, a clinical psychologist, optimism doctor, and visual imagery expert
Dr. Tonya Crombie, author of Stop Worrying About Your Anxious Child
Dr. Elizabeth Jennings, OTD, OTR, c/NDT, a pediatric occupational therapist