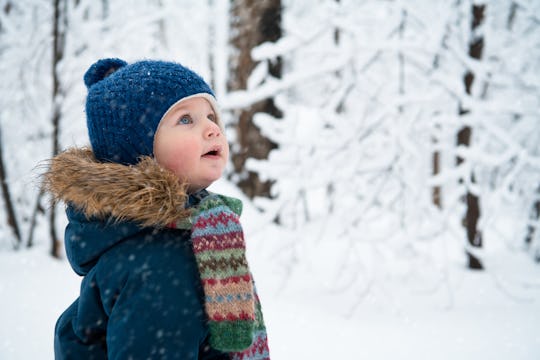 ArtMarie/E+/Getty Images
These 72 Instagram Captions Are Perfect For Your Snow Day Pics
Snow days have arrived, and with them (at least in a child's eyes) the opportunity for all kinds of Instagram-worthy outdoor fun, from snowman building to sledding, snowball fights to snow angel-making. From the west to the east, winter weather is in full effect across the country. No matter where you live, if you find yourself in need of a snowy day Instagram caption, we've got plenty to choose from.
Whether you pick a punny or poignant caption, snow days evoke all the childhood feels: Memories of coming in frozen from hours spent outside only to sit down to a warm grilled cheese and tomato soup lunch; epic blizzards when your family had to hunker down by the fire to stay warm. Whatever the case, these days only come but once a year, so you have to capture the magic while you can. What better way than with a charming Insta montage of your bitty babies having a snowball fight? And to stick the landing, you'll need a great caption or a cute winter quote for kids like one of these to accompany your snowy snaps.
I can personally only last a few minutes in actual snow before I have to call it quits. Props to all of the real snow day parents out there who brave the freezing weather to give their kids a truly memorable experience and post pics on Instagram with these snow day captions to prove it.
This article was originally published on