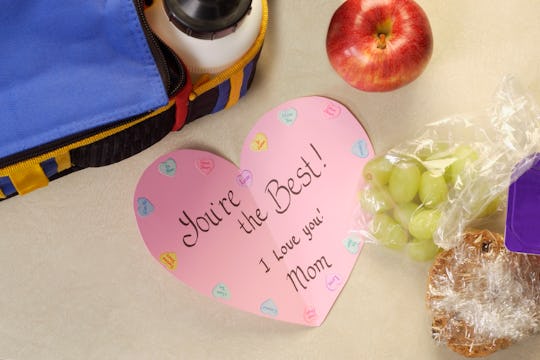 Ron Nickel/Design Pics/Getty Images
16 Lunchbox Notes To Put A Smile On Your Kid's Face
Want to make your child feel comforted and confident on their first few days at school? It's easy. Pop a note in their school lunchbox to remind them that you love them and have their back even when you're not side-by-side. The lunchbox note is a time-tested strategy to brighten a child's day. Even better, writing these little love notes only takes a moment, but can have a huge impact.
Now, you may be thinking, "do I just write 'I love you' each day? Won't that get boring?" You could make a strong argument that hearing "I love you" never gets old, but if you want to keep your notes fresh, consider all the directions these luncheon epistles could take. Perhaps your child needs a reminder to bring home their school binder that could go in there. Or maybe each day you could share a silly joke with your child. If they haven't learned to read and you know their teacher will be reading their note to them, you could throw in a little humor that will give their teacher a laugh as well. Whatever you write, just know that hearing from you will make your kid's day a little bit better.
Now all that's left to do is, well, pack the lunch.
This article was originally published on