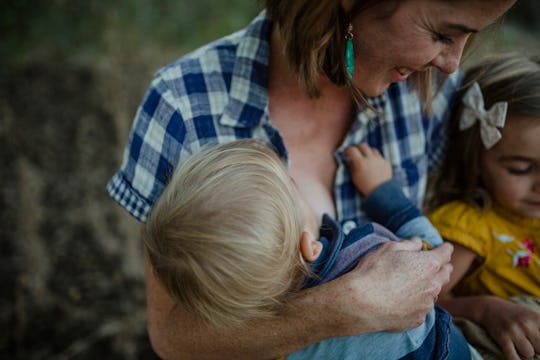 Cavan Images/Getty
20 Breastfeeding-Friendly Tops You'll Never Throw Away
Tops to wear well beyond the nursing years.
There are many wonderful and baffling things about the postpartum period, but figuring out what to wear decidedly falls in the 'baffling' category. Many of your maternity clothes aren't quite right anymore, but it's also not the time for most of your pre-pregnancy outfits, and if you're nursing, you'll need tops that are easy to breastfeed in (because there's nothing worse than trying to feed a hungry baby while wearing a turtleneck).
From hidden zippers and sneaky snaps, to draped silhouettes with under layers, you may be pleasantly surprised that, with the nursing-friendly shirts on this list, you don't have to sacrifice comfort for style when breastfeeding; they exist together with the added bonus of offering easy access to your boobs.
I'm all for breastfeeding in whatever way makes you feel the most comfortable (or skipping it if it's not right for you and your babe). There is something reassuring, though, about knowing that your clothes are working for you and that if you, say, have to pump at the office or the airport (big shoutout to those space-age looking lactation pods) you don't have to fully take off your shirt to get the job done.
From solid tanks to graphic tees, cozy tops, and shirts fit for a night out (yes, you will go out again, one day) these breastfeeding-friendly tops make nursing a breeze (well, as breezy as it can be) wherever you are.
We only include products that have been independently selected by Romper's editorial team. However, we may receive a portion of sales if you purchase a product through a link in this article.
Whether you're running errands with your baby or figuring out what to wear to pump in at work, there's a nursing top that's right for you and your day. Breastfeeding isn't always easy, but your clothes shouldn't make it harder.
This article was originally published on