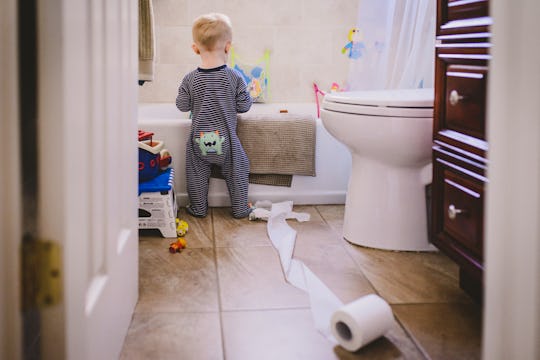 Cavan Images/Cavan/Getty Images
22 Things Desperate Parents Let Their Kids Destroy For Some Dang Peace
Desperate times call for desperate measures.
As much as you love your little one, sometimes they can really get in the way of your need for space, quiet, or just doing every day things. Every now and then, you can get so desperate that there are things you let your kids destroy for some peace... even just a few minutes of silence.
Every parent has been there at some point. Maybe you're on a work call, or you have an important guest over, or there's a mess that has to be cleaned up, or a chore that must be done. In those moments, you see your child doing something that, on a regular day, they really shouldn't be doing... but you surrender. You wave your white flag because you desperately need a little peace and quiet, even if it's at the expense of your can of shaving cream or an entire packet of craft glitter.
If you're still feeling a little ashamed about the time your child managed to open a box of fruit snacks, and ate them all, while you watched from afar, here are stories from moms who've been there. Not only have they been there, but they have absolutely no regrets because it was totally worth it at the time.