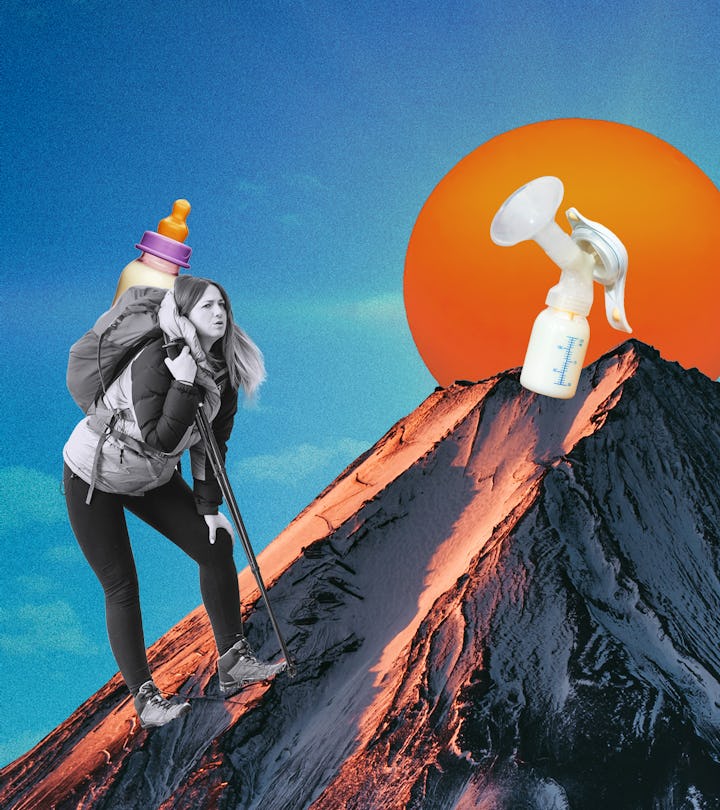 7 Totally Common Reasons You Might Stop Breastfeeding
Just do what's right for you.
by Jennifer D'Angelo Friedman
By now, you've most likely heard the American Academy of Pediatrics (AAP) recommends exclusive breastfeeding for approximately six months after a baby's birth and continued breastfeeding — as long as mutually desired by mother and child — for two years or beyond. But let's get real: Two years of nursing is a laughably heavy lift for many breastfeeding parents, and there are myriad reasons why a parent might need to stop breastfeeding before even that six-month mark.
Breastfeeding is often framed as a choice that people make, but all choices are not equal: "It's really not a decision that all people have the same likelihood or ease of making," says Leslie Frankel, Ph.D., associate professor of human development and family sciences at the University of Houston, who studies the impact of stress on parenting. "Some people can't [breastfeed], and it's a much, much harder decision for women to continue breastfeeding or even pumping in a lot of job contexts that make it difficult." But the pressure to breastfeed can be overwhelming, and the guilt in stopping can make parents feel even worse.
The truth is, breastfeeding parents have all sorts of reasons for weaning, even before their baby hits 6 months. In fact, the Centers for Disease Control and Prevention (CDC) reports that 60% of breastfeeding parents don't breastfeed as long as they originally intended to, for reasons including issues with lactation and latching, concerns about infant nutrition and weight, worries about taking medications while breastfeeding, unsupportive work policies and lack of parental leave, cultural norms and lack of family support, and unsupportive hospital practices and policies.
While there are as many reasons that people decide to wean as there are people who do it, here are some of the most common reasons why breastfeeding parents switch to formula — and all of them are equally valid.
No matter what, if breastfeeding isn't for you, it's 100% OK to stop. Breastmilk does have some unique advantages — for example, breastmilk has antibodies from the mother that protect against certain infectious illnesses, as well as ear infections and diarrhea, explains Corkins — but formula will also provide your baby with all the nutrients they need to gain and to grow, he says.
Choosing to formula feed because you have to or want to also doesn't in any way make you less of a parent, adds Frankel. "It's often not a choice — it's often because of circumstances," she says. "Formula feeding is easier and better for some people in some situations than pumping and breastfeeding."
Simple as that.
Experts:
Leslie Frankel, Ph.D., associate professor of human development and family sciences at the University of Houston
Mark R. Corkins, M.D., division chief of pediatric gastroenterology, hepatology, and nutrition at the University of Tennessee Health Science Center
Ayelet Kaznelson, international board-certified lactation consultant (IBCLC)
Dr. Lauren Macaluso, M.D., a certified lactation consultant