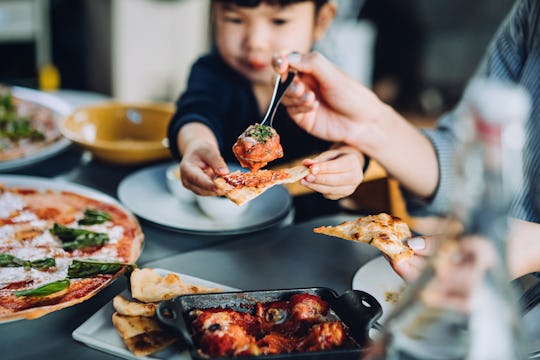 D3sign, Getty Images
Restaurant Tips From Parents Of Picky Eaters, Because They Get It
Your kid can totally order chicken nuggets and fries — nobody's going to judge you.
When your child is a picky eater, heading to a restaurant can feel daunting. Who wants to go through all of the getting ready that going out with kids involves just to pay for a meal that your picky eater will barely touch? You leave frustrated, with a lighter wallet, and still have a hungry kid to feed when you get home. Fear not, I've gathered these restaurant tips from parents for picky eaters to help you try to actually enjoy your time out and about again.
My husband is a veteran restaurant server with more than two decades of experience waiting tables everywhere from causal chains like Chili's to one of the top steakhouses in the nation. He's pretty much seen it all when it comes to picky kids and frazzled parents dining out. "Often, children in restaurants are treated as a burden instead of as an actual guest whose experience matters," he tells me. "The kids that are the happiest are the kids who get to order their own food and be a part of the experience instead of a drawback from it. Making them feel like they're actually a part of the meal really helps."
The following hacks are from parents who have successfully survived the trials of restaurant trips with picky eaters. They can help get your kiddo more on board with eating out and perhaps even encourage them to try something new once in a while.